Producing the Catalog During the Pandemic
September 04, 2020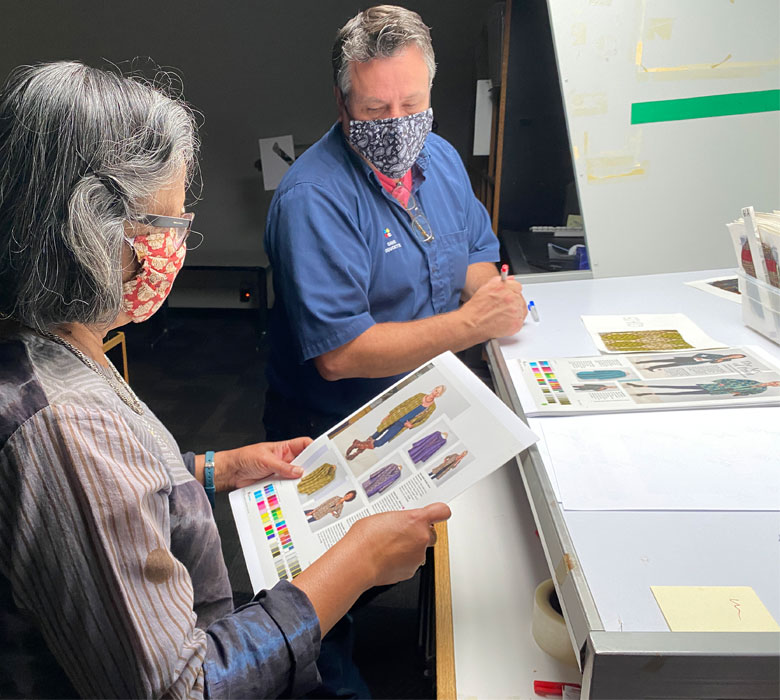 When it came time to produce the Fall catalog, we were faced with a great deal of uncertainty. We had to make decisions, but there were so many unknowns! Going into designing the next line, we usually work off of past and predicted sales. Our spring sales were down compared to last year, and the artisans faced overwhelming problems in India. With the total lockdown there in March, the women could not work. Restrictions eventually eased, but closings and quarantines have continued to complicate everything from obtaining base fabrics to finding buttons and yarn. It was unclear how the artisans would be able to produce finished garments.

Giving up was not an option. But before anything we had to decide whether to invest in a catalog without knowing much about the future. What would the situation be in the U.S. in the fall? How much could we expect to sell? Ongoing intermittent lockdowns in Mumbai made it difficult to predict how they would be able to meet demand. The artisans desperately wanted to get back to work, so we decided to go ahead with the catalog and see what we could do to overcome all the attendant obstacles - in the U.S. as well as in India.
Our first challenge in preparing for the catalog was getting all the samples for the photo shoot. Before the lockdown, we had received about 50% of the new samples. As restrictions eased a bit, some of the artisans who live near their workshops were able to go in to sew and embroider more pieces. Kala, the merchandizing manager, had Zoom calls with them giving instructions and directing embroidery - making the process more cumbersome and challenging. Despite the shutdown of public transportation and cancelling of International flights, they found a way to send small packages of samples, the last one coming just days before the shoot.
Merchandizing - selecting products that present a cohesive line, was our second challenge. Under normal circumstances Adele, our designer, comes to Chicago from the east coast and we spend 3 days together merchandizing and organizing how the pieces will be shown in the catalog pages. Because that was not possible, we sent all the samples to her so that she could accomplish this at her studio. We had 4-5 hour Zoom calls during which we discussed past sales in an attempt to predict demand and how they should be positioned in the catalog. Some products had to be dropped because there could be a problem getting the required fabric for production. Doing all this through Zoom was a poor substitute for our usual in-person meetings, where there is a ton of back-and-forth discussion as we handle the products and place them in different combinations to compare. We used to think that those meetings were challenging; because of our small budget and small office, we had to take over Pushpika's family room to display and arrange all the clothing and accessories. But that was definitely better than Zoom calls!

Beginning in March, Lalita and I conscientiously obeyed the stay-at-home order. But in April we were faced with having to decide whether to continue with the catalog. The photography for our catalog is done in Wisconsin, and we need to be there for the shoot. For customers to get the catalog in early September at the beginning of June. Were we prepared to go there and be exposed to other people? And how would things work with social distancing and all? Would it take more time? The shoot is a huge investment for MarketPlace, and we could not afford to increase the budget even for one extra day. We decided to go, but before the shoot we spent days obsessed with planning every second so that we knew the exact sequence of shots and would waste no time. We were already known for being extremely well-prepared and quick (that's what you do when you don't have a big budget), but this was going to take it into hyperdrive!

We have been doing photo shoots for over 30 years, and we have pretty much gotten it down to a science. Very little in this shoot was normal, however. Because the shoots take 4 ½ days, Lalita and I usually drive up and stay at a basic motel nearby. This year we were wary of staying over, so that meant driving back and forth each day: over 2 hours each way, adding up to 13-hour days.
At the shoot, social distancing was strictly enforced, so everything had to be done differently. The least problematic shots were those taken off-figure, on hangers or arranged flat. The model shoots were trickier. Because of social distancing, we could not have a hair and make-up artist on the set. The models had to arrive with their hair and make-up already prepared. If there was any restyling required during the shoot (pulling hair back, for example), the models had to change it themselves.
We delivered the sample garments to the photography studio several days prior to the shoot. The samples were then touched only by the models. We could not even adjust a garment on the model. Keeping our distance meant we had to yell instructions (politely, of course) to the models and photographer. It was all awkward and somewhat frustrating, but it helped that we had worked with the photographer and some of the models before.
Proofing the catalog was the one step that was fairly normal. We get paper proofs showing all the pages with their pictures and copy. Then six people go through, each of us focusing on different aspects, looking for flaws, typos or any other changes to consider. We have two chances at proofing. Hopefully we find and correct everything on the first proof, because changes after the second proof need to be kept to a minimum to stay in budget. We are zealous about making sure that there are no mistakes especially in the product descriptions.
One aspect of proofing the catalog is making sure the colors are accurately represented. This is more challenging than you might think, and we take this step very seriously. Photographs do lie, especially where color is concerned, and we really want the customers to see the true shade. We get 8" swatch cards from India so the Color Tech at the printer can see a physical swatch. When we get the proofs we ask for color corrections, whereupon the Color Tech person in Wisconsin makes corrections and we then go and view the Epson (Hi resolution) proofs in professional lighting. Only then is the color approved.
For the final step we go to the press check at the printing company, where we examine and approve the actual catalog while it is on press. It sounds simple but is not. The presses run 24 hrs a day, but sometimes there is a glitch and have to be restarted (which takes a lot of time to get up and running again). This means that the press check could take place at any time of day or night. And invariably what happens is they predict a time and after driving for over 2 hours we get there only to find that the press has had a problem. So we wait. And wait. The waiting, not sure when we will be called to check the color on press is the most frustrating.
This time the body of the catalog (which is pages 5-36) was scheduled for 7 am. So we left before 5 am, got there at 7am and only started viewing the color at 9.30 am. We were fortunate, because the cover (the first and last four pages) was ready for checking at about 11 am. Since this time we were only printing one cover (we usually change it up to a second look when we re-mail), we did not have to wait until the entire first cover was printed to view the 2nd cover, so we were done by about noon.

As our behind-the-scenes look at what we had to do to produce the catalog shows, there is very little that is business as usual these days. What had become routine had to be reconsidered and reorganized. But we were able to get it done and we produced a beautiful catalog full of wonderful products and stories. We hope that you will enjoy it!
CUSTOMER REVIEWS
Great article!
Sep 11, 2020
By Elisabeth Roman
This was a fascinating look at what it takes to put out your catalog! I spent 20+ years working for a printing company, so I understand the issues associated with that part of production; however, I'm amazed at the level of detail you go into during the proofing process! If the customers I used to deal with were as thorough as you are, they would have had far fewer complaints/problems!