The Change in Me: Yesterday. Today. Tomorrow.
October 4th, 2023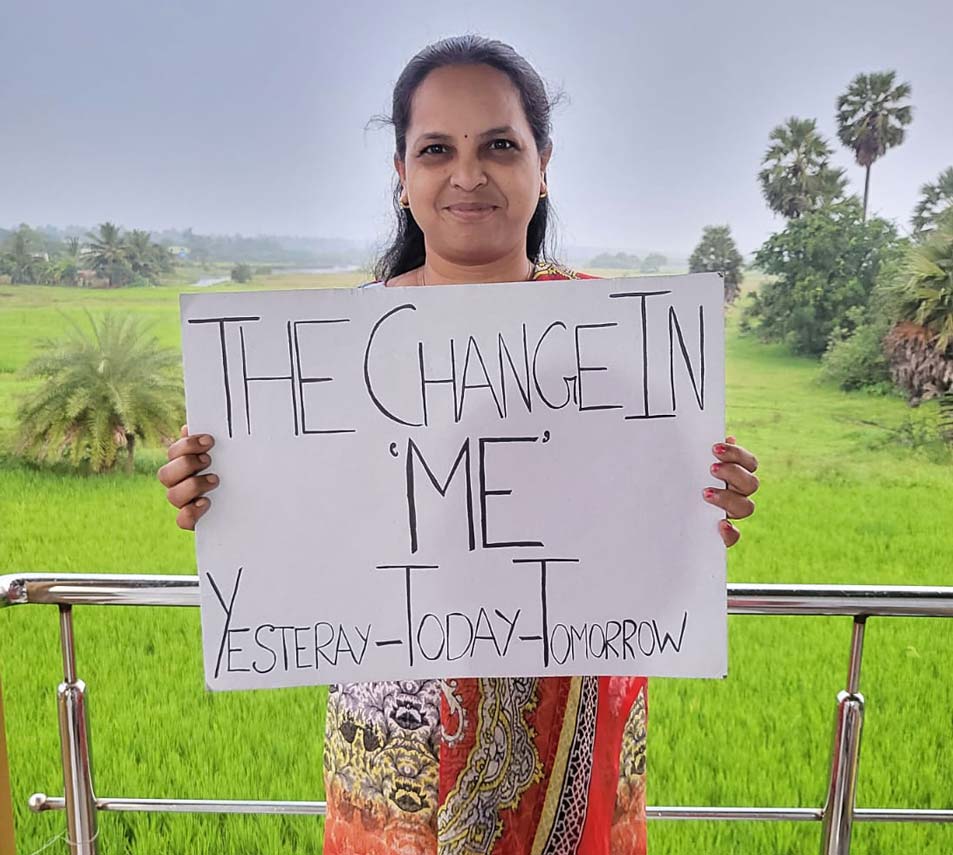 As part of the collective journey of growth and empowerment, a special session was designed and conducted in each of the different cooperatives. The aim was to encourage reflection on crucial aspects of their lives, to compare their past with the present, and to envision where they aspire to be in the future.

We chose to focus on five dimensions of the lives of the women artisans, to focus the reflections and avoid monotony.

1. Finance
2. Personal growth
3. Lifestyle
4. Comparison - mother-me-daughter
5. Skill Development

To infuse an element of excitement and engagement, the women were tasked with randomly selecting chits, each representing one of the discussion topics. While not everyone could draw direct comparisons or had their future meticulously planned, as is often the case, there were many who shared captivating tales of transformation and future aspirations. These narratives, in turn, became a wellspring of inspiration for others.

The sessions culminated in an open discussion where everyone actively participated, reflecting on changes in general. This exchange of experiences, wisdom, and dreams served as a collective reminder of the powerful journey of growth, empowerment, and the unwavering spirit of these extraordinary women artisans.

Here are narratives from some of the women artisans.
SARITA PANDEY - EMBROIDERY ARTISAN AT PRAGATI CO-OPERATIVE
In the past, I wasn't earning, so I never had money of my own. When my sisters and other relatives came to visit, they often brought sweets or gifts, but I could not do the same when I visited them because we did not have extra money for such things. It always bothered me. Today, I can afford to give back to those who give me gifts, and it feels good. I am really happy to be able to do that with my own money. I can even contribute to my son's education. I have stared saving in the group fund, I always knew savings was important but due to lack of extra funds, I couldn't do it. Even though it is a small amount it gives me a sense of security. This is my first step to start saving. In a few years my son [He is 21 and is pursuing an MBA] will also start earning and I am confident that together we can fulfill the dream of buying a house of our own.
SAVITA VISHWAKARMA - EMBROIDERY ARTISAN AT PRAGATI CO-OPERATIVE
In the past, I was not knowledgeable about the education for my children. My primary focus was finding a school with lower fees because I constantly worried about money. But after working for some time at Pragati Cooperative I've gained more experience and knowledge, and my viewpoint has changed. I fully understand the importance of education at a good school in shaping a brighter future for my children.

Nobody in our family has studied much but I want to provide my children the opportunity to attend a good school. My husband and I have decided to send them to the best school in the area, I believe we will earn enough to support them. I want them to not only complete their school education but also attend a reputable college and build successful careers.

I know that I have to start saving from now and therefore I am happy that I am able to earn extra from being a part of the quality control team. I am making sure that I become better at doing QC so that this becomes a regular income therefore sure savings.
DEEPIKA GOND - EMBROIDERY ARTISAN AT WARE COLLECTIVE
When I first came to Mumbai from my village, most of the time I stayed at home, unsure what to do in this new place. My husband was associated with MarketPlace and he along with my sisters encouraged me to try doing embroidery pieces at WARE Collective. At that time, my daughters were very young, and I did not go to the Mandal (workshop). So, my husband would bring 1-2 pieces and I would complete them, and he would take it back.

Sometimes I would accompany him to return the finished pieces, and that's when I observed the other women there - they were talking, working together and enjoying each other's company and working. It inspired me to join them and participate. At first, I would only do one piece at the center. As my daughter's grew and I learned to manage my time efficiently, my involvement and confidence increased.

Today, the women in my group are like my extended family. I have become very good at embroidery, and I'm often called upon to create sample piece embroideries. We have provided for a good education to our daughters. I've even been able to buy gold jewelry for myself, a symbol of my hard-earned success.

Looking ahead, I wish for my daughters to become responsible individuals who understand the value of time and money. They may be distracted right now as they are young, but I hope that I can help them understand all the important values, ensuring that they lead fulfilled and progressive lives.
RINKY BARAI - EMBROIDERY ARTISAN AT WARE COLLECTIVE
When I first began working at WARE Collective, I was so unfamiliar with my surroundings that I couldn't even find my way to the Mandal(workshop). Other artisans were kind enough to meet me at the lane's corner to guide me to the Mandal or walk me home. I had no confidence back then.

But today, I have come a long way. I can talk to people confidently. While I still get confused with the lanes now, I have the confidence to ask for help. Over time, I have also understood the importance of effective communication and knowing the right people to approach for help.

I want to continue to build my confident so that I can manage all my responsibilities easily. I am sure that I will not only be able to know all the lanes of our community but that I will be able to travel to Mumbai city and see the different places. Most of all, I want to pass this self-assurance it to my children so they can deal with any challenges they may face.
SHANTI SHARMA - EMBROIDERY ARTISAN AT AAKASA CO-OPERATIVE
I feel that in many aspects my mother's life was better than for me and other women like me. Even though there was hard work and less technology to ease the work, they had more independence. They could venture out freely to do tasks like washing clothes by the river, maintain a routine that allowed for both friendships and staying fit.

They ate healthy food and therefore more healthy. They also had more mental peace as there were many people to share the work and the stress, as they lived in joint families. Today, we have nuclear families which has led to more comparisons, jealousy and unhealthy eating habits [junk food].

The saddest part is that our kids are affected the most. They are influenced by what they see around them, making it challenging for us to help them recognize the true value of life. I fear that the new generation will experience more mental stress, diminishing respect for family and elders. I hope that my future daughter-in-law [one son in 12th grade] would be more aware of what real happiness is and will live life in a more fulfilled way.
RAMSATI CHAUHAN - EMBROIDERY ARTISAN AT SHRAMIK CO-OPERATIVE (SMM)
I come from a conservative family with no formal education, which meant I lacked the confidence to go out on my own. Even simple tasks like going to the market required someone to accompany me.

It has been five years since I joined SMM, and the situation is quite different now. There are so many positive changes in me, I no longer need assistance to go around my neighborhood.

But the significant source of joy in my journey is my signature. I now have a bank account on my name, and I sign the needed documents myself. It is compulsory for all cooperative members to have a bank account. I had little knowledge of such financial matters. The group manager patiently explained and guided me through the process, even pushing me to learn how to sign my name. It took several attempts to get the letters just right, but every time I sign my name, even today, I feel an immense sense of accomplishment and happiness.

In the future, I want to explore more. To start with, I want to go to the Santacruz office alone and then one day I want to have the confidence to travel to my native village on my own.
SARITA KUMAVAT - EMBROIDERY ARTISAN AT SHRAMIK CO-OPERATIVE (SMM)
I was married at a young age and lacked both experience and formal education, which greatly impacted my confidence. After I joined SMM and started to earn, my life took a transformative turn. Over time, my confidence grew, and I embarked on a journey of self-exploration.

Today, I feel a certain kind of assurance and have the 'I will figure it out ' confidence. I don't get anxious or afraid when faced with new challenges; instead, I believe in my ability to find solutions. This newfound self-belief has become my driving force.

I believe that there is so much more room for personal growth and learning. I want to learn new skills, such as learning to ride a two-wheeler and working on a computer. I want to walk hand in hand with progress and stay aware of new technologies.
UMA VARTE - EMBROIDERY ARTISAN AT RANPHUL CO-OPERATIVE (RMM)
Before, I enjoyed a relatively stable financial situation when both my husband and I shared the family's expenses and responsibilities. However, with his passing, managing everything, especially the finances, became an overwhelming challenge.

Today is still a struggle but I feel it is getting better each day. I am able to provide education to my children and fulfil all their basic necessities. For a long time, I was worried about spending any extra money. In our group, we have had many discussions and MarketPlace staff have come to explain how important savings is.

With time and exposure, I realized I will need to save to have a good future. I bought a new two-wheeler from my savings, and it has made my life so much easier. I can move around easily, saving time and allowing me to do extra work, hence earn more.

In the future, I want to make sure my children get the best education and make a career for themselves. In the short term, I want to save enough to renovate my house.
SANGITA WALTER - EMBROIDERY ARTISAN AT RANPHUL CO-OPERATIVE (RMM)
My mother had more patience and resilience that I admired. But the difference in our lives is immense, especially in terms of facilities. I especially thought about this during the COVID-19 pandemic when everything seemed to come to a standstill. Thanks to the technology of phones and transport, we were able to access essential services, medical care, and stay connected to loved ones. But if such a situation had occurred during my childhood, it would have been disastrous. There were no connecting roads or nearby medical centers.

In terms of facilities, my life is better, yet I feel I lack the patience and understanding which my mother had. I have been trying to be patient and make wise decisions by understanding all sides of a situation.

The future generation is very reliant on technology and this reliance promises greater ease and convenience in terms of facilities. However, my fervent hope is that they can have the best of both worlds - the ease as well as the importance of meaningful things in life.
CUSTOMER REVIEWS
Wonderful!
Nov 2, 2023
By Nan
It was so heartwarming to read about the journeys of these women and how their lives have been transformed by being able to not just earn a living but also learn many valuable life skills.