Turmeric Latte (Golden Milk)
June 03, 2020 | By Bhakti Kabre, Production Manager, MarketPlace, Mumbai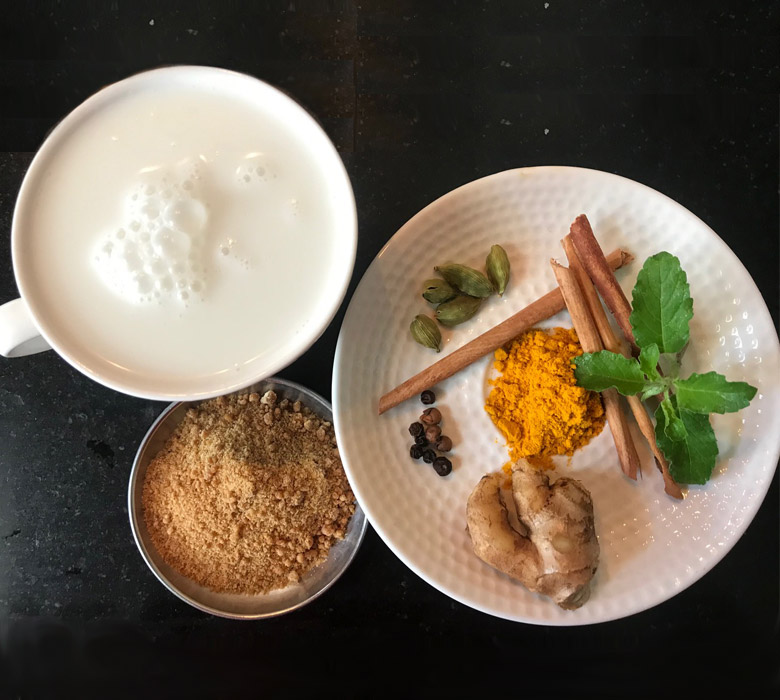 Immunity Booster
Ingredients:

1 cup whole milk or unsweetened almond milk

1 tsp. ground turmeric

4 - 6 whole black peppercorns

1 inch piece fresh ginger root, chopped or ½ tsp. ground ginger

1 inch piece cinnamon or ½ tsp. ground cinnamon

1 tsp. jaggary powder

1 tsp. honey

brown sugar or to taste

¼ tsp. vanilla extract, optional

Holy basil (Tulsi) leaves for garnish

Cooking:

Put the milk in a small pot and bring just to boil.

Add all the other ingredients, except the garnish, and simmer for about 10 minutes.

Strain into a clean bowl.

Whisk the mixture well with a whisk or a hand mixer to produce a frothy drink.

Pour into a cup and garnish with Tulsi leaves.