From Reluctance to Resilience: Utsaah's Artisan Empowerment Story
August 28th, 2023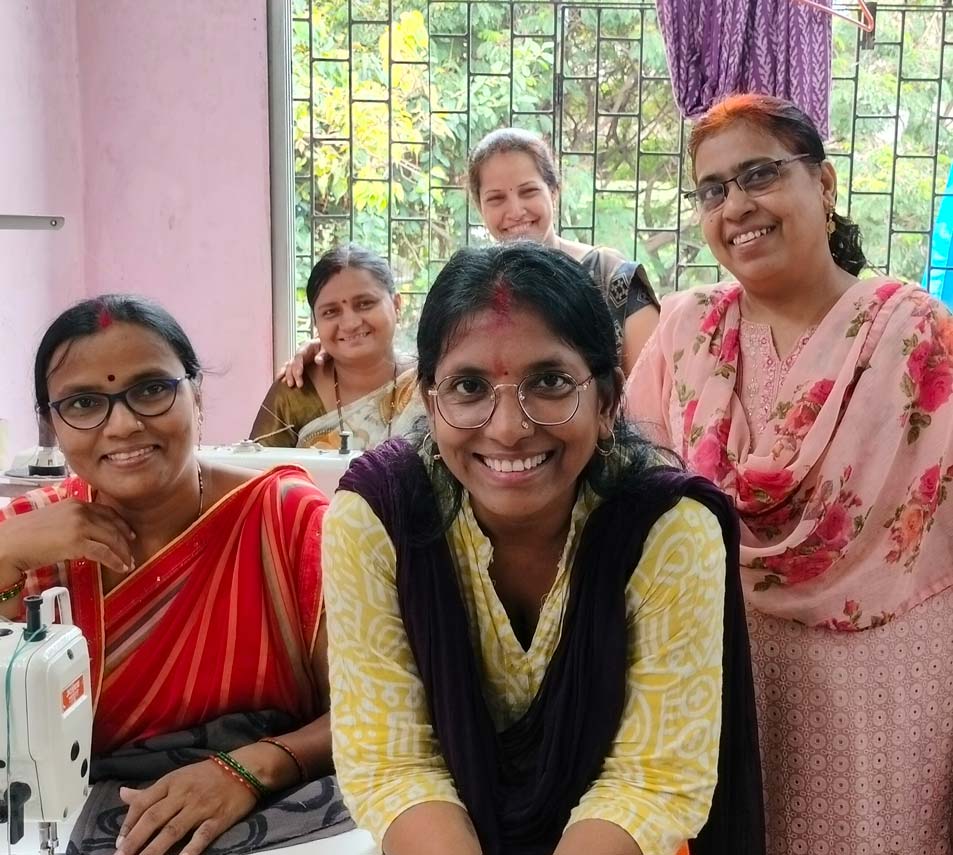 Utsaah's path to creation was unique. When it was founded in 2022, some of the women artisans had been associated with MarketPlace for over 24 years! 16 of the 22 current Utsaah Cooperative members were part of a former group called Sahara which dated back to early days of MarketPlace.

In contrast to the conventional pattern of forming cooperatives driven by the women's interests and their dedication to forging independent businesses, Sahara took a different approach. It was owned by one individual. Due to financial irregularities and a failure to follow the MarketPlace prescribed systems, MarketPlace stopped working with Sahara. MarketPlace's Mumbai staff hoped that the women who would be left without employment would establish their own cooperative. When they proposed this course of action to the artisans, however, they were surprised to learn that the women were very reluctant.

The name they eventually chose, Utsaah, refers to enthusiasm and a great eagerness to do something. But it took a while to get here. While the women wanted the work, they wanted to either join an existing group or have a similar structure to what they were used to at Sahara, with MarketPlace as a boss giving them work directly, which was certainly not an option.
MarketPlace Mumbai (MPB) organized over a dozen long meetings with the women, a process that alternately left them disheartened, puzzled, and teetering on the edge of giving up. Yet, as they delved deeper, the root cause became apparent: Sahara's formation and operation had not truly involved the artisans in the various aspects of running the business. Since someone else had managed those responsibilities, their focus had remained solely on crafting their products. The prospect of assuming all-encompassing responsibilities was overwhelming, and the fear of failure loomed large in their minds.

As the meetings went on, women started to see the positives of owning their own business and became reassured that with MPB's assistance and the support of each other, they could do great things: Utsaah!
In the months that followed, the MPB team guided them through essential skills. They learned to craft a startup budget, secure a suitable workshop space (and negotiate the terms and conditions), appoint managerial and supervisory roles, explore suppliers, and assess raw material quality. Sewing machines were procured, and on August 17, 2022, Utsaah opened with new machines, workspace, and leadership, as well as a whole different attitude.

MPB's Production and Quality Manager, Bhakti Kabre, commented, "The plus point with Utsaah is that they have very skilled artisans. Once they got past the initial hesitation it was easy to give them big product orders which meant good earnings from the start. This built the confidence of the artisans and strengthened the group. They are doing so well that from this month they have also started paying back the loan they took to start their group."
Sunaina Vishwakarma, who was elected Group Manager, observed some of the bumps and successes: "Everyone was scared but someone had to come forward. I saw this as a great opportunity from the very beginning. One of the biggest challenges was managing the new and old members because there were many conflicts... eventually I learned to handle things on my own. The other thing that really made me nervous was working on the computer. I know that it was good that they pushed me because they saw my potential. I am really thankful for it."

Sunaina has learned to work on the computer and now appreciates that it is necessary to be up to date on today's technology in order to be competitive. Her older son had previously asked for a laptop, but she had refused. Recently she bought a laptop for her family with her earnings. She shared that this was a very emotional and proud moment for her both as a woman and as a parent.

Now that they are running their own business and learning new skills, all the women are set up for more success and independence. As they embrace new horizons, the women of Utsaah march forward, not just as artisans but as respected members of their families and community.
CUSTOMER REVIEWS
From Reluctance to Resilience
Sep 16, 2023
By Ophelia
Reading your story just gives me even more pleasure when wearing your clothing. At 93 years old, I have throughout my life, sewed, embroidered, needlepointed, knitted, crocheted & most other handcraft activities!! (Knitting & embroidery are still my favorites.) So you see I can really appreciate firsthand your lovely work. Knowing that I can look at the pictures of your groups & realize that someone there actually had hands-on the garment that I'm enjoying is so very special. My deepest thanks to the amazing things that Market Place is doing. I intend to keep on buying your products as long as I can!?! Blessings on your whole organization! Ophelia