Bread Pudding
December 18, 2019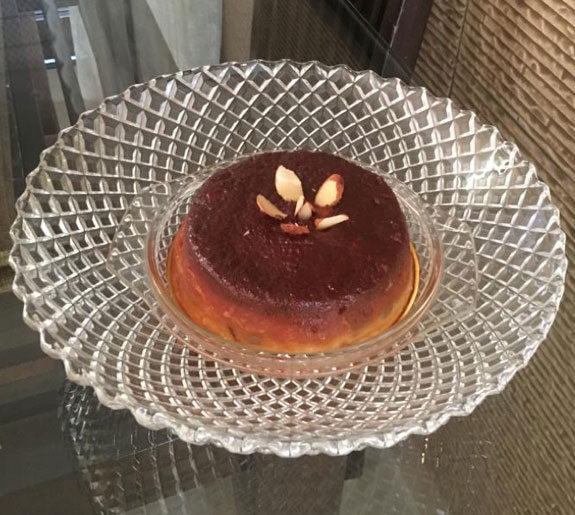 Ingredients:

2 cups whole milk

2 slices thick bread (preferably homemade style white), cut into small pieces

4 Tbsp. sugar

1 Tbsp. broken cashew nuts

1 Tbsp. raisins

2 eggs

1 Tbsp. vanilla extract

2 Tbsp. sugar (for caramel)

Cooking:

In a medium saucepan mix together the milk, bread, sugar, nuts and raisins. Cook over medium heat, stirring, for about 10 minutes or until it becomes a paste. Remove the mixture from the heat and cool it completely.

Whisk together the 2 eggs until they are well blended. Then mix them into the cooled bread mixture and stir in the vanilla.

Spread 2 Tbsp. sugar in a baking tin and sprinkle some water over it. Heat over medium heat and let it caramelize into a golden-brown shade. Watch carefully so it doesn't get too dark or burn. As soon as the desired color is reached, dip the bottom of the tin into water to cool it and stop the cooking.

Spoon the bread mixture on top of the caramelized sugar, spread evenly without disturbing the caramel. Cover the tin with aluminum foil. Steam it in a larger pot (with rack and several inches of water) for 45 minutes or in a pressure cooker for 25 minutes.

When the pudding is cooked through, remove and uncover the tin. Run a knife around the edges and turn it over onto a plate. Can be served hot or cold.