Dalia / Broken Wheat Khichdi
April 14, 2017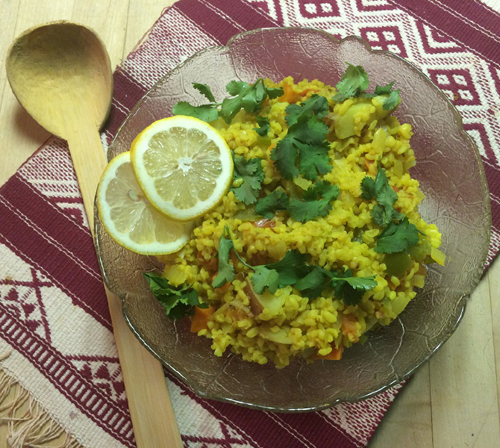 Delphine Fernandes has been the Office Manager at SHARE for the last 15 years. Her attention to detail, memory and hard work has kept SHARE functioning smoothly and efficiently. She loves making Dalia because it is so easy and quick, especially when she has little time to cook because she has to work late to keep a deadline. And her husband and son love it!

Dalia is basically wheat that is cleaned and husked and processed into smaller sizes. It is highly nutritious as it does not undergo refining. In the United States, it is known as "bulgar" or "cracked wheat." When broken wheat is cooked, it has a hearty, warm aroma and a delightful, grainy taste. It is slightly nutty and chewy.
Ingredients:

2 tsp. oil

1 tsp. jeera /cumin seeds

1 tsp. ginger paste

1 tomato diced

½ tsp. coriander powder

½ tsp. turmeric powder

1 onion finely diced

1 potato cut into 1" cubes

1 carrot cubed

½ cup green peas and or bell pepper

1 cup dalia/broken wheat (aka bulgar/cracked wheat)

2½ cups water

Salt to taste

Fresh coriander and lemon for garnish

Cooking:

In pan, heat 2 tsp oil and sauté cumin seeds until they sizzle. Then add ginger paste, coriander and turmeric and sauté for 1 minute. Add cut tomatoes, onions, carrots, peas and sauté for 2- 3 minutes. Add dalia to the pan and sauté for 2 - 3 minutes on a slightly high flame. Add 2½ cups of hot water and salt. Bring to boil and lower heat. Cook for 20 - 25 minutes or until water is absorbed. Serve hot.