Indian Lentils: Black dal/Sabut Masoor
May 11, 2019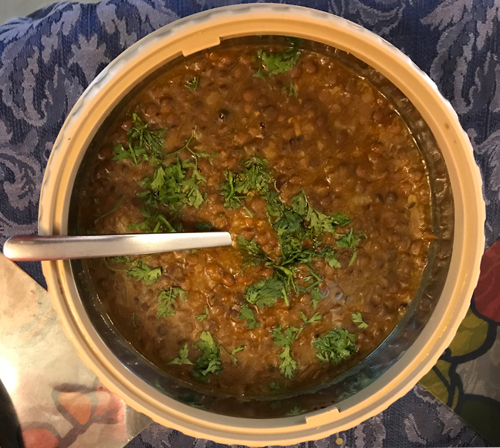 Ingredients:

¼ kg (about ½ lb.) brown lentils, (soaked in water 15 minutes prior to cooking)

2 tsp vegetable cooking oil

4-5 curry leaves

4-5 cloves garlic, finely chopped

1 hot green chili, chopped

2 medium onions, chopped

½ tsp ginger-garlic paste

salt to taste

2 medium tomatoes

½ tsp cayenne, ground red pepper

½ tsp ground turmeric

2 tsp ground cumin

1 tsp ground coriander

½ tsp garam masala

Chopped cilantro for garnish

Cooking:

Heat oil in a pan, add curry leaves. Then add chopped garlic and green chili to the heated oil. Mix in onion, ginger-garlic paste, and salt and fry for 1 minute. Add tomato, cayenne, ground turmeric, ground cumin, ground coriander and garam masala and mix well.

Drain the soaked lentils and add them to the mixture. Stir in 4 cups of fresh water. Bring to boil and close partially, lower flame to medium and cook for 10 minutes stiring occasionally. Check if lentils are soft and cook for 2 additional minutes if necessary. Add water if necessary to get the consistency you want. When serving garnish with chopped cilantro.