MarketPlace Milestones
November 17, 2018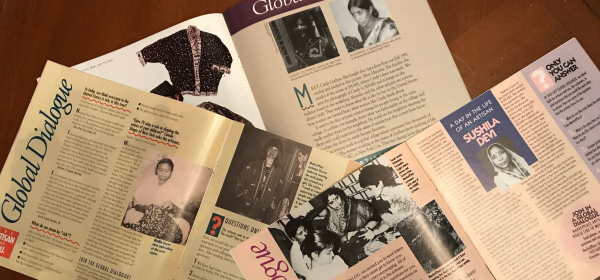 The Beginning:
Sisters Pushpika Freitas and Lalita Monteiro were exposed to social work from an early age. Their mother, Florie Freitas, ran a large organization that treated leprosy and TB patients, sponsored school children, and created other community development projects. In 1981, when Pushpika and Lalita decided that they wanted to work with women who needed to work and earn some income, they talked to women they knew through their mother's work to assess the needs of the community and started working with 3 women. Those small beginnings have blossomed into a network of 10 collectives consisting of over 200 women and 5 fabric artisan groups comprising another 200 artisans, men and women. One of those three original women, Vasanti, has been an eyewitness to the entire development of MarketPlace and still works at Nirman Collective.
Fall 1990 | The First Catalog
The idea of MarketPlace: Handwork of India was informally started in 1983 when Pushpika came to Evanston, IL on a vacation, lugging a suitcase stuffed full of garments the women in India had produced. Sales in India had been dismal because fair wages for hand embroidery was not something people were concerned about. In contrast, when these pieces were offered for sale at a home party in the U.S., the response was very encouraging. Thus, the idea of starting a non-profit marketing organization was born.
After incorporating as a non-profit organization in 1986, sales through home parties continued to be the entire marketing effort until 1988 when we participated in our first wholesale show at the Merchandise Mart in Chicago. Our first catalog was printed in Fall 1990 and was distributed to 60,000 people
Fall 1992 | Global Dialog
In the Fall 1992 catalog we started an exchange program we dubbed Global Dialog. This initiative grew from our realization that the artisans never saw their work worn and knew nothing about the lives of the customers. On the other side, our customers knew little, really, about the lives of the artisans. The Global Dialog facilitated questions and answers to and from both artisans and customers. Queries from the artisans were printed in the catalog and customers responded, often also sending photographs of themselves in MarketPlace garments. And they asked some questions of their own. A question that the artisans thought really funny was: "What do you do in your free time?" The women were very amused when the concept of 'free time' was explained. And many customers wrote long letters in response to the question, "In India, we think everyone in the U.S rich. Is this true?"

Later as everyone's lives became more complicated and the letters waned, the program evolved into the artisans choosing a theme for each catalog (every 6 months). This gave the artisans a chance to question, study, discuss and learn about themselves and the world around them. The theme was presented in the catalogs and gave the customers insight into the lives and ideas of the artisans. Some of the themes that were chosen over the years were Using our Voices, Daughters of the Millennium, Daring to be Different, and The Freedom to Choose.
1996 | Restructuring for Increased Empowerment
When the group grew - rapidly - from the original 3 women, we saw the need for more structure and assistance and Share, a non-profit organization was established. By 1996, the number of women had increased to over 100. Dignity not Charity was something we firmly believed in and in evaluating our structure, realized that true empowerment meant that the women should manage their workplace. Hence, 3 groups evolved, and Share took on the role of social development. This was a very effective tool for leadership building as the women took on responsibilities that surprised even themselves. The reorganization was a learning experience that took a full year to work out.
1997 | Social Action
By 1997 the artisans were growing in confidence and social awareness. At one meeting they began talking about problems in their communities such as the lack of garbage collection, difficulties with the public water supply, and corruption in the subsidized food progams. The idea emerged that the women could use the skills they had developed in running their groups and participating in Global Dialog to mobilize their communities to solve some of these problems.

And to no one's surprise, they made some huge strides. Their actions have had real impact as they learned the power of demonstrations, street plays, educational presentations and more. Through grit and perseverance, they even learned to negotiate the Indian bureaucracy to demand their rights.
1999 | Armaan Club for Kids
Very early on, it became very clear that the primary focus of women was education for their children. Whatever the sacrifice, they made it to send their children to school. Their first choice was to send their children to English medium schools but those were all private schools, and some could be expensive. All types of schools have associated costs such as uniforms and supplies. Not to mention that often in India children are taken out of school so that they can contribute economically to the family.

The artisans wanted to give their children the best possible educational experience and so they asked Share to work with them to develop a support program just for their sons and daughters: the Armaan Club for Kids. A team consisting of two leaders from each cooperative met with a social worker to plan and organize activities. Since schools are very focused on academics, much of it wrote and memorization, they decided to do extracurricular activities that were unavailable to the women and their families.

Soccer, dance, and judo are regular weekly activities. One-day picnics, craft activities, informational sessions on life skills, gender sensitization and vocational education are held during the October and December holidays. In addition, overnight camps are organized during the summer vacations. The women are thrilled because their children are exposed to different ideas, information, experiences and have the opportunity to interact with children of different communities. Outside of academic support, these experiences will widen their horizons as they learn about the world.
2015 | Opening a field office North of Mumbai
In 2015 we saw an opportunity and a need to expand our mission. We had been working for over 30 years in Golibar, a slum just outside central Mumbai. Over that period of time, we had seen real improvements in many aspects of the community, such as the water supply, sanitation, education, and health care. The economic progress of Mumbai has meant more jobs and better educational opportunities even outside of the city center.

Farther out of the city, however, the situation is less promising. In semi-rural areas north of Mumbai jobs and opportunities are scarce, particularly for women. Sales in the US had been increasing since 2010, giving us the resources to work with women in this area. We established a field office that coordinated the formation of cooperatives and the training of the women in sewing and embroidery. Social workers from the regional office can spread the word, going from house to house to explain how the women can start their own cooperatives. We support their progress with technical guidance, training, loans for machines and most important, orders. These new groups have gotten off to a fast start to earn a living.
2016 | Education for Life
In 2016, two of the artisans' concerns, education, and community improvement, came together in one ambitious project: Education for Life. Before starting this project, the women designed and conducted a survey in their communities to understand the needs as seen by their neighbors. They tabulated the results and determined that the overriding concern was better education for their children. Like the artisans, the other parents in the community understand that education is key for improving the lives of their children. The first step was providing a study hall for the neighborhood children, many of whom did not have a quiet place to study.

After that, computers were made available for students to use for their studies (and sometimes to play games), a toy project was started for children 2-6 years to help them develop different skills, and a career-ready project is underway. Giving back to the community is a value highly cherished by the artisans.
CUSTOMER REVIEWS
I feel so connected!
May 18, 2021
By Julie Douglas
I have been teaching almost as long as you have been creating clothes and selling them to aid women in supporting their children's education. I have bought pieces as I could afford them and they are always high quality and unique. I am proud to support such a practical effort to make the lives of women and children in India enriched and educated! Keep up the great work!
Dreams DO Come True!
Feb 6, 2020
By Patricia Cockrell
This is such a joyful and encouraging story that you have shared!! Whoever had the idea and skills to create this important enterprise should be up for a Nobel Prize. Hundreds - thousands of lives have been changed for the better, maybe millions, including mine.