Prawn Biryani
March 10, 2016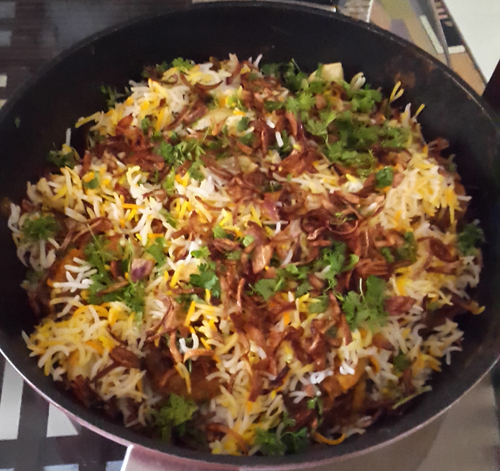 Prawn (or shrimp) with rice and vegetables come together to make this delicious dish. Give it a try!
Ingredients:

15 to 20 big prawns

1½ cups basmati rice

4 medium size onions

2 large tomatoes

2 cups fresh coriander

3-4 green chillies

2 tsp. ginger garlic paste

½ tsp. peppercorns (whole)

5 cloves

2 pinches of cinnamon

1 tsp. coriander powder

1 tsp. turmeric powder

½ tsp. cumin powder

½ tsp. pepper powder

1 tsp. chilli powder

2 potatoes

Cooking:

Cut one onion into thin slices, fry until golden brown then set aside. Cut potatoes into small cubes, fry and set aside.
Salt the prawns and set them aside.
Grind 2 onions, tomatoes, green chillies, ginger garlic paste, coriander, and all of the spice powders into a paste.
Boil the rice (not fully cooked) and cool it down.
In a large pan add approximately 3 table spoons of oil, whole spices, and one sliced onion. Fry it for 2 mins. Then add the ground paste and fry for another 5 mins. Then add the prawns, 1½ cups of water and cook until the prawns are cooked (about 10 mins.)

Setting the Biryani:

In a large pot, put down one layer of rice. Then spread a layer of the prawn curry and garnish with the fried onions and potato. Repeat this layering 2 or 3 times depending on the size of the pot. Garnish the top layer with fried onions and green coriander. Cover and keep on low flame for 15 to 20 minutes or in the oven at 200 degrees for 15 minutes.

Serve hot with a yogurt salad.

Enjoy!