Shrimp Pilav
January 18, 2019 | By Pratibha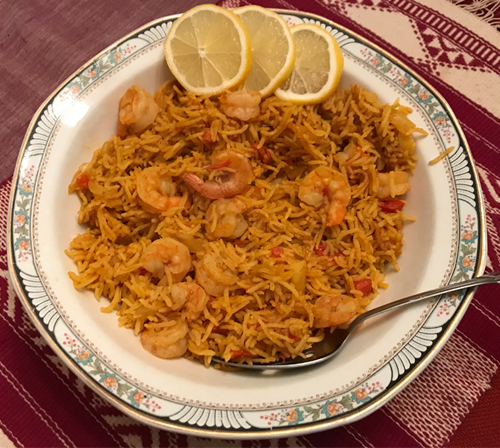 Pratibha runs the social development programs including Darpan and Social Action. She notes: "SHARE is unconventional in that we social workers do not design programs on our own. We work with the women, listen to them, get them to identify a problem and find a way to solve it. That is what I love about my work."
Ingredients:

2 Tbsp. neutral vegetable oil (not olive oil)

2 - 3 whole cloves

2 - 3 whole black peppercorns

½ inch cinnamon (whole, stick)

1 Tbsp. cayenne or other ground hot red chili

1 tsp. ground turmeric

1 ½ tsp. ginger-garlic paste

2 onions, finely chopped

1 tomato, finely chopped

½ lb. large raw shrimp, trimmed and cleaned

1 cup raw white rice

Salt to taste

Fresh chopped cilantro for garnish

Cooking:

Heat 2 Tbsp. oil in a deep pan over medium heat. Add cloves, peppercorns and cinnamon stick, cayenne and turmeric. Stir and add ginger-garlic paste and sauté for 30 seconds, stirring constantly.
Add chopped onions and fry 4-5 minutes, stirring frequently especially at the beginning.
Add chopped tomatoes, rice, and salt. Stir in 1½ cup water and let it come to a boil. Turn to low and cook for 5 minutes covered. Add shrimp, stir and cook for another 5-7 minutes or till the rice is cooked.