The Mohina Tunic
November 03, 2018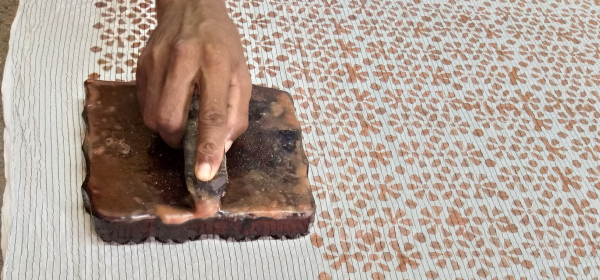 Traditional batik hand block printing is done with a wooden block with a hand carved pattern on one side. The block is first dipped in wax and then stamped onto the fabric. The cloth is dyed and then submerged in hot water to remove the wax and reveal the design.
The artisans have experimented with other creative techniques, using a variety of brushes. Here they have found a new use for a broom made from the thin stems of the coconut leaves, which is generally used to sweep outdoors. They dip the tip of the broom in wax and splatter the wax on the fabric to get this random spotted effects. The fabric is then dyed and the wax removed in very hot water.
The fabric is stretched on the table, the broom is dipped in wax and drops of wax are scattered on the fabric.
It is then dyed. This is the technique used to create the fabric for the Mohina Tunic pictured below.
Shop our beautiful collection of Tops & Tunics and discover a design that's perfect for you and your unique style!