Vegetable Rice with Cilantro Chutney
November 12, 2019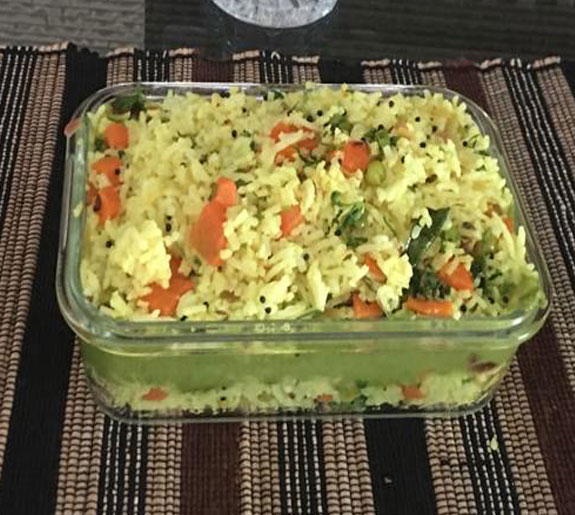 Cilantro Chutney Ingredients:

1 bunch of fresh cilantro

4 tsp. freshly ground coconut

1 tsp. ginger-garlic paste

3-4 hot green chillies

1 tsp. of cumin seeds

1 tsp. salt

2 tsp. sugar

1 green mango

juice from 1 or 2 limes





Making Cilantro Chutney:

Wash and roughly chop the cilantro leaves. Put the chopped leaves, ground coconut, ginger garlic paste, green chillies and cumin seed in a blender or food processor. Blend until you get a smooth paste. Add the salt, sugar and lime juice and mix well.

(If you are using raw green mango, peeled and cut it into small pieces and then add it into the food processor with the other ingredients before blending)

Vegetable Rice Ingredients:

1 ½ cup of white rice

2 Tbsp. vegetable oil

½ tsp. mustard seeds

½ tsp. cumin seeds

5-6 curry leaves (optional)

1 medium sized onion, chopped

Salt to taste

¼ cup green peas

2 carrots cut into small bits

¼ tsp. ground turmeric

Chopped fresh cilantro for garnish

Cooking Vegetable Rice:

Cook rice until done and set aside. In a heavy saucepan add 2 Tbsp. of oil over medium heat. Once the oil is heated add in the mustard seeds. When the mustard seeds begin to sputter stir in the cumin seeds and the curry leaves (Optional). Add chopped onion and stir for 2-3 minutes. Then add the peas and carrots followed by turmeric and some salt. Cover with a lid, reduce heat to low and let it cook for about 5 minutes. When cooked add the rice and mix thoroughly till rice is hot.

Assembly:

In a large serving dish layer the rice mixture with the cilantro chutney. Then garnish the top rice layer with the remaining minced fresh cilantro.