Celebrating International Yoga Day
Yoga classes came into being in 2018 when the women wanted to improve their health and reduce stress. At first there were difficulties finding space, but then COVID shut down in–person meetings and the classes went online. Many of the artisans still practice Yoga daily. They decided to celebrate International Yoga Day as a group by dressing alike: black and white yoga clothes. Many of them had never worn pants before, and the consensus was pants and a T-shirt are much more comfortable than a saree for doing yoga!
Panvel Skirt - Nasturtium
$72.00–$75.00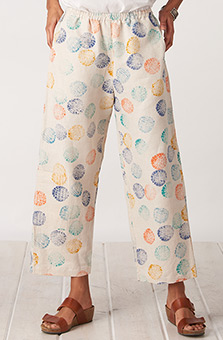 Kesari Pant - Flax/Multi
$88.00–$92.00
Renu Top - Nasturtium
$52.00–$56.00
CUSTOMER REVIEWS





Beautiful color
May 17, 2022
By Maria Fitzpatrick
The orange is a beautiful color and it fits well





Fabulous color
Apr 27, 2022
By Gail
Love the color. There were no large so I ordered the next size up. But it is much much too large. I will try to reduce the size. The shape also is strange. Great for hot weather.





beautiful blouse for summer
Jun 2, 2021
By Arlene
I love the brilliant color, the firm but supple fabric and the style. Can be casual or dressy.