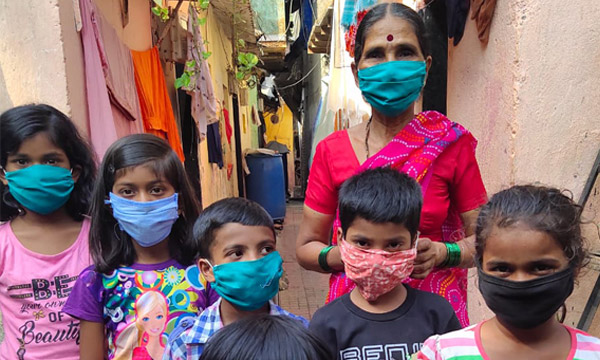 Thinking Of Others Even During Hard Times!
When the lockdown order came down, many of the artisans responded by thinking about others. Even before the medical experts recommended them, they somehow knew masks were going to be important…so they decided to sew some. Using chindis, scrap fabric, they came up with a design and made face masks not only for themselves, but for their neighbors. They found a safe way to distribute over 300 masks, free of charge.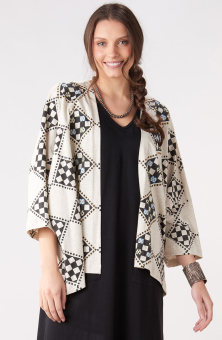 Sunita Jacket - Black/Natural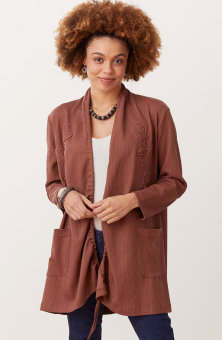 Vani Drawstring Jacket - Cinnamon
$118.00–$122.00
Write a review
---
It IS the perfect cross between a sweater and a jacket
Nov 9, 2021 | By Janet
This is my new favorite from Market Place India. It's so soft, warm, comfortable, and it looks as good as it feels! I'd LOVE to have this in blue/green colors also!
---
Great color
Dec 8, 2021 | By Debbie
I love how soft and comfy the fabric is. It looks great with a pair of jeans. I hope they make more jackets like this one
---
Cozy and fits perfectly!
Dec 14, 2022 | By Kitty Knecht
I just got the Nivetha jacket in the Pepper color after seeing it featured in an email. I LOVE it and will wear it all the time over a tee shirt or turtleneck. It's very soft and cozy, just the right weight. The big pockets are exactly what I need and the embroidery makes them look fantastic. The small size fits me perfectly (I'm usually a 10). Thank you MarketPlace!
---
Much too Large
Dec 15, 2022 | By Deborah Solomon
I like the fabric and the color. However, the jacket is gigantic. The description should tell you to size down, maybe even 2 sizes. I am disappointed because I like it, but I am swimming in it. I will return it but am debating whether a smaller size will work.
---
Get a smaller Size
Dec 31, 2022 | By Deborah Solomon
I originally ordered this Nivetha Jacket in size Large (my usual size) and it was gigantic. I like clothes a little loose, but this was much too big. I sent it back and, with the help of Customer Service, reordered in size Small. I am happy with the size Small. And I like the jacket - the fabric is soft and comfy. The color is good.
---
Great jacket!
Feb 1, 2023 | By Sue Maple
I really like this jacket. It's soft, comfortable, and lays well. Please keep this style and make it available in other colors like blues or olive green.
---