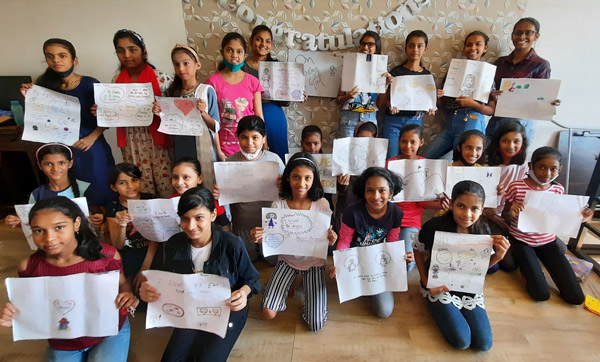 International Day Of The Girl Child
The staff of Share decided to celebrate International Day of the Girl Child on October 11, 2021. This day was established by the United Nations to recognize girls' rights and the unique challenges they face around the world. Share is dedicated to celebrating girls and helping them to reach their potential every day, but it is nice to have one special day. Using films, discussions and art, we considered how girls in other countries also faced discrimination and inequality, but are working towards a just and equal world.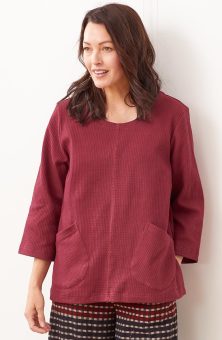 Prachi Top - Radicchio
$85.00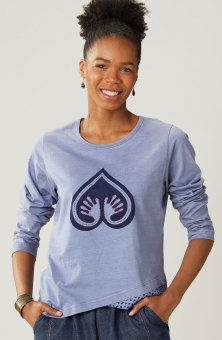 Sherna Organic Logo Sweatshirt - Periwinkle
$78.00–$82.00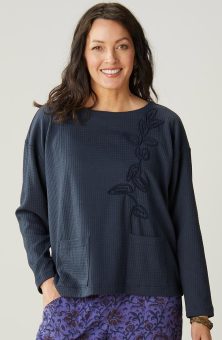 Ansiba Tee - Navy
$74.00–$78.00
Write a review
---
Love this top!
Oct 29, 2022 | By Elizabeth NealeL
I am a long-time MarketPlace customer and this may be my favorite garment ever. Beautiful color, soft knit fabric falls beautifully even on my challenging figure! Fun floral design, wonderful accent fabric on sleeves, and pockets! Totally enamored!
---
Pleased with top
Dec 4, 2022 | By Nancy
I took your advice to down-size, so I ordered a large instead of my usual XL. The large fits very well. The fabric is comfortable and the detail work is carefully done.
---
Preetha tee
Dec 15, 2022 | By Pamela CampodallOrto
People think I'm happy, whether I am or not! The embroidery really "makes" the blouse.
---
Beautiful detail and comfortable fabric
Dec 26, 2022 | By Tamara Hunt
This top looks even better in person than it does online. The hand embroidery on the front and sleeves is charming, and the fabric is just right for cool weather, especially with a turtleneck underneath. The small pockets on the front are handy for keys or other small items. I love it!
---
A sweatshirt with pizzaazz.
Apr 30, 2023 | By ellen
I've been wearing it a lot. i love the design element, the pockets and the color. It's comfortable and the length hits mid-hip for me, a 5'2" person, so covers just enough.
---
Pretha tee
May 18, 2023 | By Penny
I like the weight of this fabric and the overall fit of the piece. Good color, too.
---