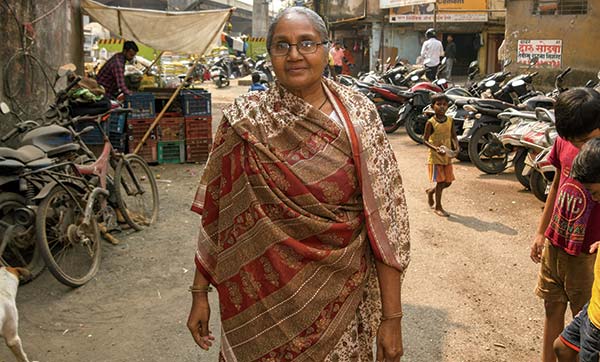 Insurance Against Health Crises
Among the less affluent in India, health insurance is only a recent phenomenon, and many still question its value. Five years ago, Marketplace began offering artisans health insurance, paying 75 percent of the premium, with the Co–operative paying 15 percent and the artisans the remaining 10 percent. After many meetings and discussions about the benefits, today the women value health insurance for both the financial and psychological security it provides.

Kunti Morya, who has worked as an embroidery artisan at Arpan Co–operative for thirty years, had never heard of health insurance until it was discussed at her Co–operative in 2016. Since she signed up, she has benefitted from the policy on three occasions. "I am grateful that MarketPlace thought in advance of us needing medical help, because I don't know how I would have managed," she says. "There are so many issues in life that make it hard to save money. Insurance allows us to not use our savings for health, so this insurance is my true savings."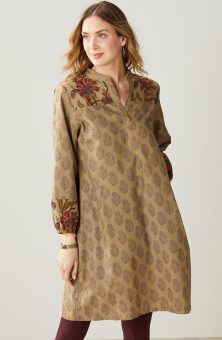 Lakshmi Kurta Dress - Sage/Multi
Write a review
---
love this jacket!
Oct 12, 2022 | By karen
especially now, in Fall, when days are cooler, and one needs a little covering to go out during the day (or evening). great material, soft but strong, not too light, not too heavy. a lovely jacket for all occasions. one thing i especially like: it is long enough to cover my behind! most of my jackets are too short, to just below the waist. this particular jacket is the right length.
---
Favorite
Oct 19, 2022 | By Eileen Dudley
Beautiful color (ambrosia), great fit and a perfect light jacket for the winter climate of southern Arizona. I have one suggestion: for embroidered pockets like this one, please think about lining them. When I put my hands in the pockets, my fingernails catch on the reverse side of the embroidery.
---
Beauatiful in all ways
Jan 14, 2023 | By Rosalind
This long jacket is subtly pleasing in the juxtaposition of colors because the colors differ but their values (light/dark) are similar. The stitching details are imaginative. The versatility of turning the jacket inside out doubles the cost benefit. Having two layers makes it warmer which is nice in colder months (or in summer air conditioning!).
I was grateful for the advice to "buy small" as the jackets size large. I am 5'8.5" and thin. The smallest size is just right.
---