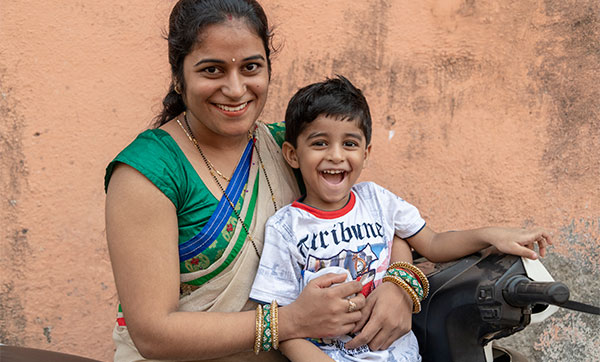 Aiming For Better
Rashmi Sharma came to Mumbai after she was married at 21. Her new mother-in-law was an embroidery artisan at Nirmaan and she encouraged Rashmi to join. The warmth and support of her fellow artisans helped Rashmi adjust and gain confidence. She is proud to be able to save some money for her 4-year old son's future. Looking ahead for herself, she plans to learn about computers and fashion design. She had to leave school at 9th grade, but she is not done learning and succeeding.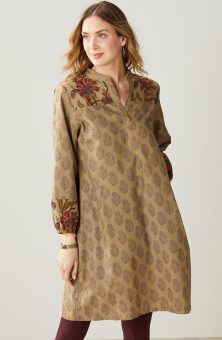 Lakshmi Kurta Dress - Sage/Multi
$108.00–$112.00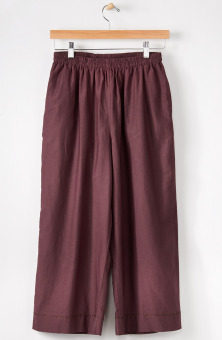 Nuja Layering Culottes - Raisin
$75.00–$78.00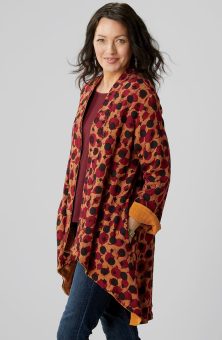 Reversible Shillong Jacket - Pomegranate/Saffron
$168.00–$174.00
Write a review
---
love this jacket!
Oct 12, 2022 | By karen
especially now, in Fall, when days are cooler, and one needs a little covering to go out during the day (or evening). great material, soft but strong, not too light, not too heavy. a lovely jacket for all occasions. one thing i especially like: it is long enough to cover my behind! most of my jackets are too short, to just below the waist. this particular jacket is the right length.
---
Favorite
Oct 19, 2022 | By Eileen Dudley
Beautiful color (ambrosia), great fit and a perfect light jacket for the winter climate of southern Arizona. I have one suggestion: for embroidered pockets like this one, please think about lining them. When I put my hands in the pockets, my fingernails catch on the reverse side of the embroidery.
---
Beauatiful in all ways
Jan 14, 2023 | By Rosalind
This long jacket is subtly pleasing in the juxtaposition of colors because the colors differ but their values (light/dark) are similar. The stitching details are imaginative. The versatility of turning the jacket inside out doubles the cost benefit. Having two layers makes it warmer which is nice in colder months (or in summer air conditioning!).
I was grateful for the advice to "buy small" as the jackets size large. I am 5'8.5" and thin. The smallest size is just right.
---