Design In A New Light:
At an organizational level we have had to redesign many systems, procedures and structures to accommodate new realities. For example, our designer Adele Mattern could not make her usual trips to India to work with the women at the embroidery workshops and finalize the lines. Instead we changed to replace in–person meetings with more Zoom calls, WhatsApp messages and by sending tons of photographs and samples back and forth. It was a cumbersome process, but it worked more smoothly with time and experience.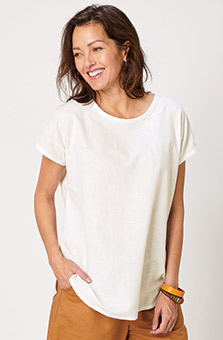 Bimala Top - Soft white
$58.00–$62.00
Amaya Pant - Caramel
$76.00–$79.00
Sikkim Jacket - River/White
$79.00–$82.00
CUSTOMER REVIEWS





Colorful and artistic jacket
Jun 12, 2021
By Maria
I bought this jacket with two dresses from the same collection, and this jacket to use in early spring and autumn with tights. The cotton material does not require ironing if you take it out of the dryer after a few minutes and hang it to finish drying.