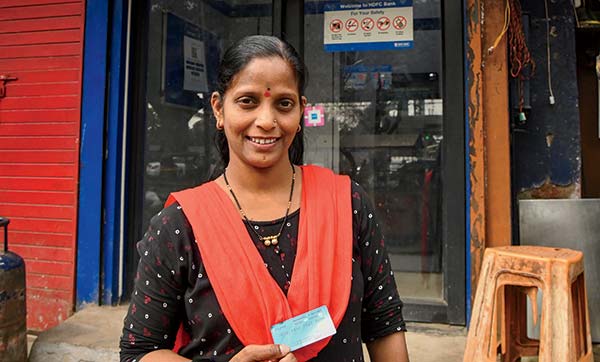 A Culture of Mutual Support
In stark contrast to the fast–fashion industry, where low–cost goods are often produced by exploited workers in dangerous conditions, Marketplace was founded to give artisans a livable wage from dignified work in a safe environment.

But that's just the first step. To achieve its broader goal of transforming lives and communities, Marketplace encourages women to determine their financial destiny. Over the years, supported by Marketplace, women have opened bank accounts, and started planning for the future. They have even launched collective saving clubs.

Lavina Dandekar, a tailor at Nirmaan Collective, got her first ATM card, allowing her to experience the dignity of financial independence. "I can withdraw money on time for school fees and for paying utility bills," she notes with pride. "But the most important part is that I am not dependent on anybody for managing my money."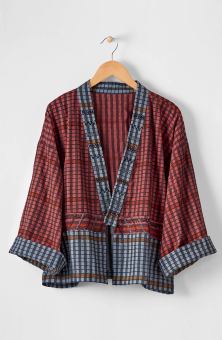 Sikkim Jacket - Sumac/Multi
$95.00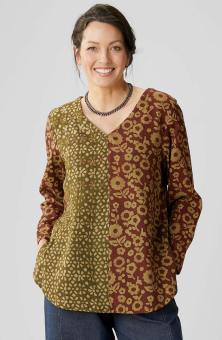 V-neck Divya Top - Redwood/Curry leaf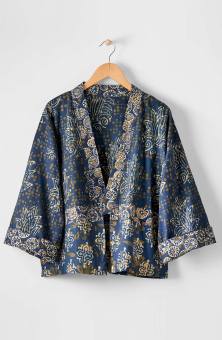 Sikkim Jacket - Navy/Multi
$88.00
Write a review
---
Sikkim Jacket
Aug 30, 2022 | By Antje E. Huck
I like the jacket. It fits the description in the catalog. The material is soft, but has a nice drape. It can easily be closed with a small pin or broach.
---
Beautiful Jacket, but . . . .
Sep 26, 2022 | By Kimberly
This is a beautiful jacket with lovely workmanship, including some hand-work embroidery. While the colors speak to Fall, the fabric is lighter and thinner than anticipated, so it would be a better cloth weight for summer. Sadly, the cut wasn't good for me, so I'm returning it. But, it is a very nice jacket. While it doesn't work for me, I still recommend it to others.
---
Perfect!
Sep 28, 2022 | By Mary
A stunning display of color, block printing, and design!!
The ladies created a perfect design that will last a lifetime.
Namaste
---
A Lovely Light Jacket
Oct 12, 2022 | By Kate
I ordered a L at first, it ran just a bit small and because it's a jacket, I wanted it with a little more room, so I ordered an XL and it is perfect. I love the colors, the shape and the feel of this jacket. It is a lighter fabric than I imagined, but I am not disappointed....The Customer Service Dept. was excellent, as well when I made the exchange.
---
Sikkam Jacket
Feb 19, 2023 | By Klara East
As always, the actual garment is even mpre beautiful in reality than in the pictures. I just love the hand embroidary! Although the jacket description says it is oversized I had to return the size I usually wear and replace it with the larger size. Just lovely!
---
Beautiful!
Jun 6, 2023 | By Charlotte Johnson
Jacket is very pretty and comfortable.
---