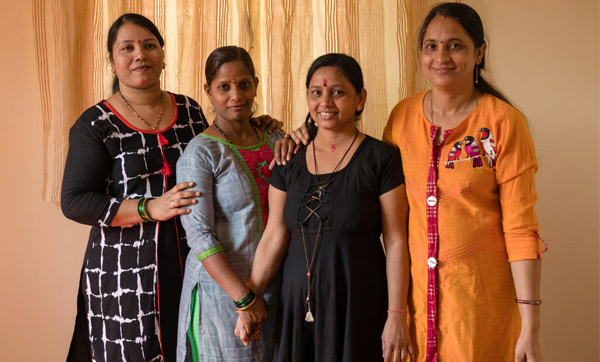 Valuing Their Independence
When the artisans met to discuss "values to live by" they decided "independence" was central to their lives now. They had to break a lot of rules and overcome many obstacles in order to have the freedom to make their own decisions. MarketPlace has sponsored numerous programs dealing with concepts such as decision-making, rights and respect which have helped the women as they find their own power. They are using their independence to make decisions which can improve the future of their families and communities.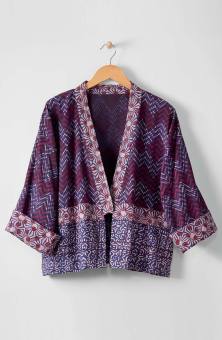 Sikkim Jacket - Port/Multi
$78.00–$82.00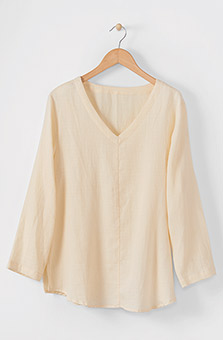 V-neck Divya Top - Natural
$62.00–$66.00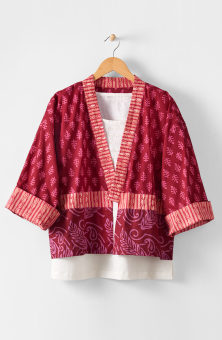 Sikkim Jacket - Wood violet/Multi
$82.00–$86.00
Write a review
---
Sikkim Jacket
Aug 30, 2022 | By Antje E. Huck
I like the jacket. It fits the description in the catalog. The material is soft, but has a nice drape. It can easily be closed with a small pin or broach.
---
Beautiful Jacket, but . . . .
Sep 26, 2022 | By Kimberly
This is a beautiful jacket with lovely workmanship, including some hand-work embroidery. While the colors speak to Fall, the fabric is lighter and thinner than anticipated, so it would be a better cloth weight for summer. Sadly, the cut wasn't good for me, so I'm returning it. But, it is a very nice jacket. While it doesn't work for me, I still recommend it to others.
---
Perfect!
Sep 28, 2022 | By Mary
A stunning display of color, block printing, and design!!
The ladies created a perfect design that will last a lifetime.
Namaste
---
A Lovely Light Jacket
Oct 12, 2022 | By Kate
I ordered a L at first, it ran just a bit small and because it's a jacket, I wanted it with a little more room, so I ordered an XL and it is perfect. I love the colors, the shape and the feel of this jacket. It is a lighter fabric than I imagined, but I am not disappointed....The Customer Service Dept. was excellent, as well when I made the exchange.
---
Sikkam Jacket
Feb 19, 2023 | By Klara East
As always, the actual garment is even mpre beautiful in reality than in the pictures. I just love the hand embroidary! Although the jacket description says it is oversized I had to return the size I usually wear and replace it with the larger size. Just lovely!
---