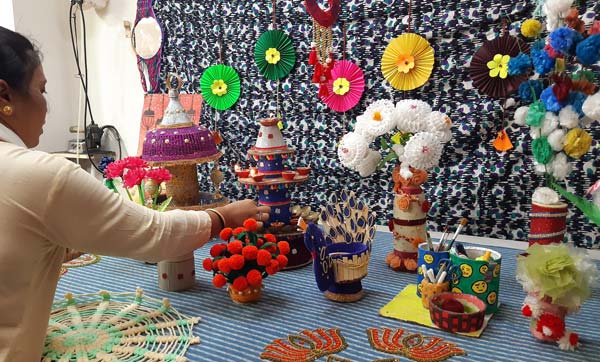 Make From Waste
The women in the Social Action Program decided to find a more eco–friendly way to celebrate festivals. Typically Indian community celebrations produce decorations that are wasteful and bad for the environment, such as figures made of plaster of Paris and toxic paints. The artisans felt that they could make change happen on a personal scale by using recycled and leftover materials. In a friendly competition the women have turned leftover bits of cloth, paper, wax – whatever they find when they clean out their homes for the holiday – into wall hangings, vases, lamps and more.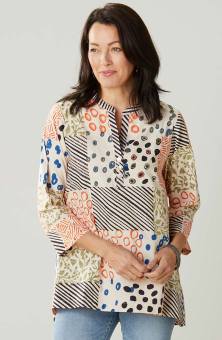 Priyanka Tunic - Multi
$98.00–$102.00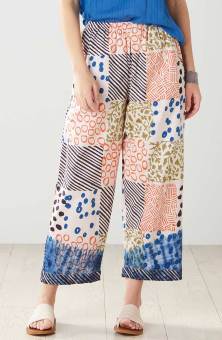 Kesari Pant - Multi
$92.00–$96.00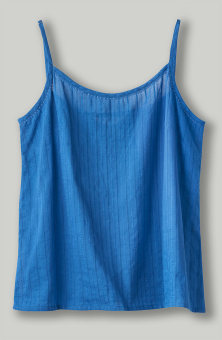 Cami - Lapis
$35.00–$38.00
Write a review
---
Well made
Mar 22, 2023 | By Nola30305
I am disappointed that the field color is a dull wheat color resulting in an overall "dull" colored garment. I was expecting brighter colors on an eggshell white field. The S-L size is a Large (fitting like a 16-18) and I think too big for anyone whose size is Small. I would suggest three sizes be offered, not just two. I am keeping "Sunita" because it has pockets and is well made. I'm done buying clothing without pockets. The pockets are skillfully placed using portions of fabric that are similar in print so the pockets seem camouflaged into the jacket print, just like the jacket shown online. The seams are overcast to prevent separation. The embroidered accents are beautifully executed. The inks colors did bleed when hand washed, and I will continue to wash separately until I'm convinced the addition of vinegar to the wash has resulted in color fastness. Hung to dry. The 100% cotton fabric ironed easily. If there was any shrinkage, it wasn't obvious.
---