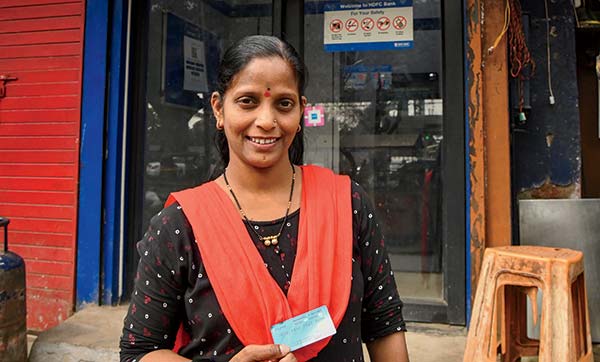 A Culture of Mutual Support
In stark contrast to the fast–fashion industry, where low–cost goods are often produced by exploited workers in dangerous conditions, Marketplace was founded to give artisans a livable wage from dignified work in a safe environment.

But that's just the first step. To achieve its broader goal of transforming lives and communities, Marketplace encourages women to determine their financial destiny. Over the years, supported by Marketplace, women have opened bank accounts, and started planning for the future. They have even launched collective saving clubs.

Lavina Dandekar, a tailor at Nirmaan Collective, got her first ATM card, allowing her to experience the dignity of financial independence. "I can withdraw money on time for school fees and for paying utility bills," she notes with pride. "But the most important part is that I am not dependent on anybody for managing my money."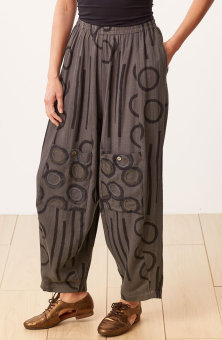 Field Pant - Fossil
$118.00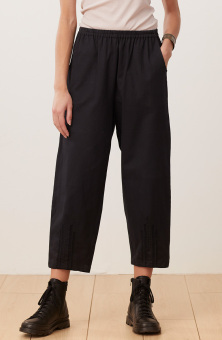 Kalpa Pant - Black
$92.00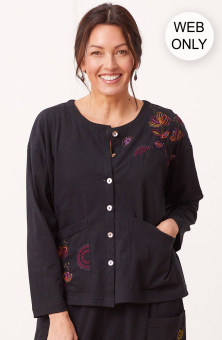 Gauri Cardigan - Black
$108.00
Write a review
---
Vishram black pants
Oct 9, 2023 | By Lee Gable
Size was too large. The item was sent back in exchange for a smaller size.
I liked the embroidery
---
Love the Embroidery
Oct 18, 2023 | By Melinda
I adore these pants! They are very well-made with strong material. They fit true to size and feel very comfortable. These could be lounge clothes or work pants. The embroidery adds detail that makes these pants versatile. Oh, and the embroidery. It is BEAUTIFUL! I am a big fan. I highly recommend Marketplace clothing and will be back for more.
---
My second pair
Nov 16, 2023 | By Karyn
I purchased the green ones first and had to get the black ones too. Both are versatile. Love the fabric and they hang nicely. They hit at my ankle, which I knew they would because you post the heights of the models with their photos. Beautiful stitching and I can wear them with several of the heavily stitched pieces I've purchased from you lately.
---