Ganpathi
October 02, 2019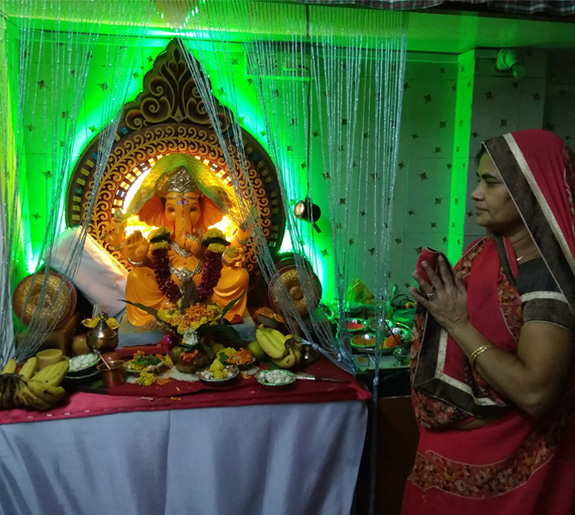 Ganesh Chaturthi is an important Hindu festival celebrated throughout India with great devotion. This day celebrates the arrival of Lord Ganesha to earth from the mountain Kailash Parvat. Lord Ganesha also referred to as Ganpathi is the elephant-headed son of Lord Shiva and Goddess Parvati.

Ganesh Chaturthi falls in the months of August or September. The festival is celebrated by bringing clay statues of Lord Ganesha to their homes where they worship him for 1 ½, 3, 5, 7 or 11 days. The statues are then carried in a public procession with music and group chanting and immersed in a nearby body of water such as a river or sea.

In Mumbai alone, around 150,000 statues are immersed annually. Thereafter the clay statues dissolve and Lord Ganesha is believed to return to Mount Kailash. The festival celebrates Lord Ganesha as the God of New Beginnings and the Remover of Obstacles as well as the god of wisdom and intelligence.

Bringing Lord Ganesha home can be expensive as there are many rituals, offerings, and ceremonies. In many places, the idols are worshiped in a communal space with everyone in the community worshiping together.

Take a look below at five MarketPlace artisans who worshiped Lord Ganesha in their homes.
Chinta Gupta explains, "I have celebrated the Ganpathi festival for so many years with my neighbors and community members. My children were always excited and every year asked me to bring Ganpathi home. In my heart, I thought that when we will buy our own house then we will bring him in our new house. This year when the festival was approaching, I had a kind of epiphany. I thought that everyone brings the idol home as a thank you for one or the other wish fulfilled but what would be really nice is to bring him home without any wish but because he is such a beloved and giving God. So, we brought him, my children are overjoyed and I also feel very happy. Rest is his wish, whatever he has in store for our future."
Vasanti Mirkar reflects, " My father started the Ganpathi festival 50 years ago in the chawl (community) where we lived. When we moved here, he wanted to continue the tradition at home as well. He wanted his grandson to take the tradition forward and worship the Lord in the same way. One day 8 years ago, he took my brother's son and came back with a small idol of Ganpathi. We had not made any preparations but he said in his heart he knew this was the right time. And he was right, he passed away the next year. We continue to bring Ganpathi home honoring his wishes and the tradition. He has united the family by starting this tradition, all of us come together at my home during these five days. We miss him and together remember him and his love for the lord and the festival."
Shashikala Jha stated, "My mother-in-law wished for a second grandson as it is believed in our native village that it is always good to have 2 sons, as one son can become stubborn and spoilt. When I was expecting she made a vow to bring the Idol of Ganpathi as a thank you if her wish is fulfilled. This was 24 years ago. Soon after, I lost my husband. I was very young, uneducated and had six children to raise. Years passed, and we slowly built our lives, all my children started working young and completed their studies on the side. The house at that time was just a mud thatched room with a leaking roof in monsoon, and we would have huge rodents. Six years ago, we finally built our house the way I always wanted and my children then set out to fulfill the promise of bringing our beloved Ganpathi home. I am thankful to him and MarketPlace for keeping me afloat in the most difficult times. I am happy and content today."
Bharati Solanki explains, "We had bought a house in Virar (suburbs of Mumbai). We had done the payment and all the paperwork was processed but due to one minor issue, we were not getting the possession. It has been 6 months and we were getting worried about something going wrong. One such day it was the Ganpathi festival and we were coming back from the meeting with the builder. Looking at people rejoicing in bringing Bappa (as he is fondly called) home, I told my husband that if our issues also get resolved we will bring him home next year. And just like that, keys to our new house was handed over two days later. Since then, we would bring Bappa home with love and joy. This year, however, we had decided to break the tradition. Both my husband and daughter lost their jobs when Jet Airways shut down operations. My son was also yet to find a job. We did not have the means or the heart to continue with the celebrations. One month ago, both my son and daughter got jobs and when they received their first salary, they came to me and said we will bring Bappa. I am both thankful and happy that he has decided to continue showering his blessings on us."
Sangeeta Jadhav says, "In our native village of Satara, it is a tradition which is followed by every household. When my in-laws passed away, the tradition was automatically passed on to the next generation. My husband has three more brothers and they started it the same year. But we were living in a rented house, which had mud flooring which would become flooded during monsoon which is also the time for this festival. We were financially not stable; my children were young and the household depended only on my income. We managed to buy the house in 2000 but some community members eyed the house and started troubling me to vacate it. I fought a long battle and finally in 2011 got the house. By this time, my children had started working part time and supported me. It took us 2-3 years to build our house and finally five years ago we welcomed Bappa to our home. As a tradition, we also bring Gauri for 3 days from day 5th to 7th."
CUSTOMER REVIEWS
Many Thanks
Oct 10, 2019
By Margaret J Faulkner
This is a wonderful article. As a former teacher, I'm all for sharing information of this kind, and story telling is our natural way of learning. Please thank the participants for sharing their stories and experiences. I used to keep a stuffed toy elephant in my classroom that I called Ganesh to remind the children that when they were struggling with their learning, I would try to remove the obstacles that were preventing their growth in understanding. There is usually a way.