Voices of the Next Generation
April 12, 2018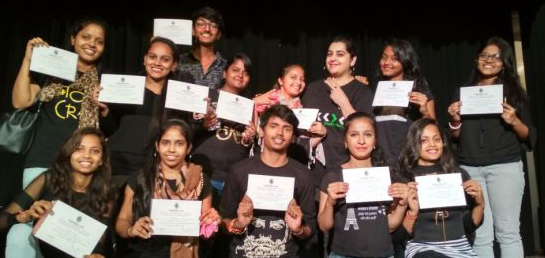 The Armaan Club for children was developed in collaboration with the artisans who want their sons and daughters to succeed in school and life. It focuses on improving the children's academic performance including counseling, mentoring and career guidance. Other programs concentrate on teaching life skills through sports, dance, judo, theater and other recreational activities.
Kunal has the cutest smile that lights up his face. He is 13 years old and is in the 8th grade. He lives in Thane, about 20 Km from Mumbai. His mother Kalpana is a member of the Arpan Cooperative. He participates in sports and loves the football (soccer) organized by the Armaan Club. But his passion in sports is Cricket. He does well in school and prefers math and science to History and languages. He wants to become an architectural engineer.
"When I go to Mumbai, I love to look at the big buildings. They are so tall and I always think about how they are built and wonder how they do not fall down. But I also think that somehow buildings can be used in a better manner to house all the people who do not have houses or live in the slums."
Prachiti is 14 years old and is in the 9th grade. She has an older sister and they are very close. She wants to be a doctor but does confess that she is not sure she wants to study for so many years. Prachiti's mother Ankia is the manager of the new cooperative Jivdani Mahila Mandal (JMM) that MarketPlace has started working with, so they have not been a part of Armaan Club activities for very long.
"I thoroughly enjoy Saturdays when I come to the Armaan Club. It is a long (1 hour) journey but it is exciting to travel so far. I see the other kids who are very comfortable with talking and participating. I was very shy at first, but now I am making some friends. I love the dance classes."
Arpita is an outgoing and confident young girl. Both her parents are a part of WARE. Her mother does embroidery and her father is the cutter. She is 14 years old and in 8th grade.
"I participate in all the Armaan Club activities. Besides the weekly dance and judo classes and football (soccer) games, I love the annual picnics and the overnight camps. We always learn something when we go to the camps. This time we went to a village and learnt about village life and a little about agriculture. When I grow up I want to travel and see the world, so maybe I will become a flight attendant." When asked, "Why not a pilot?" She smiled and said, "Maybe!"
Antarang Foundation envisions a world where every young person is passionately, productively and positively engaged in a career of their choice. Through their CareerAware and CareeReady programs, they work to bridge the employability gap that exists among disadvantaged youth. Antarang just completed an intensive program for the youth in the slum area near the MarketPlace office.
Shubham Rastogi is 18 years old and doing his 2nd Year at B.Com. He just completed the Antarang Foundation CareerReady program. His father has a small retail shop selling apparel and Shubham wants to do the same but on a larger scale. During the training, all the participants visited a mall and spoke to retail owners.
"I learned that it is going to be very tough and that there is a lot of competition. A successful apparel store is not just about selling but also about merchandising and understanding what the customers want. Another thing I learned during the training is that I have to manage my time. I cannot be late if I want to keep a job. During the mock interviews, I learned that as well as how to answer questions and how to conduct myself. I have decided that I will first work for a store and learn the ropes before starting something of my own."
Dhanashree Rane is 18 years old and doing her first year of college. Her father is ill and not able to work. Her sister works at WARE collective and helps with the household expenses.
"Through the aptitude tests I took at the training, I learned that an accounting job would be the best for me. I want to work in a government office as an accountant and I learned that I have to take many difficult exams before I can apply for a job. Also, just passing those exams will not assure me a job and so now I am thinking and planning at different levels while I finish my bachelors."