Mission by Design
March 30, 2019 | By Adele, MarketPlace designer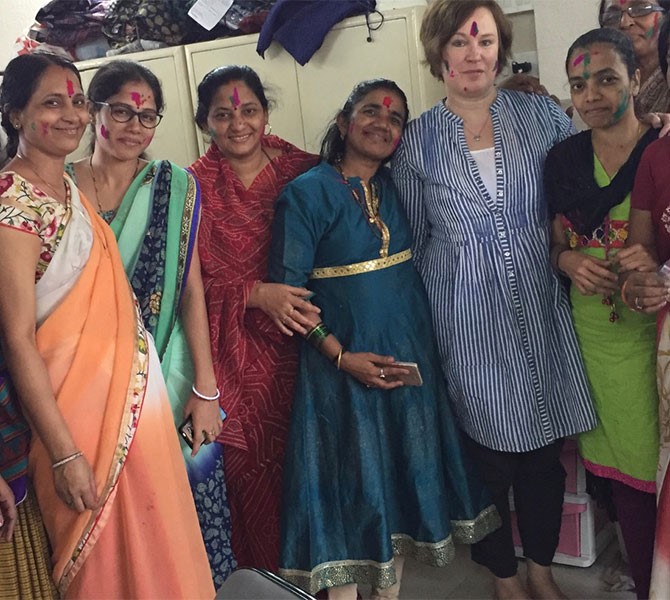 Women are the soul of MarketPlace. Our mission to empower women is why we exist, and it is embedded in everything we do. Employment, business development, education, social programs, and connection to a global audience are critical components of that mission.
The design process, like everything else, starts and ends with the women artisans; designs are built from what the women need, and what they can beautifully produce for our customers. Because of the way we work, my job in design and product development for MarketPlace is special and pretty different than most design roles. I facilitate a creative process that engages fabric suppliers, stitchers and embroidery artisans. Each season, it is an exciting challenge to balance--or maybe juggle--fashion and tradition, while keeping mission at the center. As a clothing brand, what we make, and how we make it, is a reflection of who we are as an organization, and who the artisans aspire to be.
In an era of fast fashion, MarketPlace is playing the long game. We have worked with some of the women artisans for over 25 years, while continuing to train new groups. The brand is built collaboratively from the bottom up, entirely constructed around the abilities of the women, with garments handmade from easily accessible materials. Despite this, our designs are not static but evolve to support and challenge the current artisans. Our vibrant and energetic line is built around Indian textile print techniques like batik, with traditional garment references like Kurtis, but it's relevant to wear anywhere in the modern world. MarketPlace garments are simple, casual, and easy-to-wear. Our uniquely bold attitude mirrors the spirit of the women we work with.
Our product development is entirely, 100% mission focused, and this makes us unique even among other fair trade and slow fashion brands. What does that mean? Well, for starters, we do not work with professional tailors (which, in India would be easy to do.) Instead, we train women who may have NEVER operated a sewing machine before to stitch our garments. Since we want to provide employment to as many women as possible, styles are designed to be mastered easily. As stitchers gain experience and confidence, more complex products can be developed. As recently as 5 years ago, we avoided designing items with collars. Now, though, there are plenty of accomplished stitchers who have achieved a skill level equivalent to that of professional tailors. Collars are no longer a problem for them! Meanwhile, our newest artisans might be learning to sew by creating patchwork from recycled fabric. After the garment is sewn, every single piece is hand embroidered. This detailed embroidery adds value and allows more women to participate with MarketPlace. Embroidery can be done at home while taking care of family needs, but many of the women like to embroider at the workshops where they can stitch, chat and work beside friends.
Women are the collective soul of our MarketPlace clothing brand, fabric is the beating heart. Our garments celebrate the joy of print and pattern. Each season, we create approximately 125 new prints and colors to deliver fresh energy and excitement. We are so proud of our innovative design collaborations with fabric printers and really don't talk about it enough. Everyone loves the time spent together around the long printing tables, testing out combinations of patterns for sample fabric from a vast archive of wooden blocks. This spring, our experiments with hand-painted batik stripes in gorgeous blues and wearable neutrals turned out spot on--a lovely blend of contemporary design within a handmade ethos. In the fall, we hand block print a tencel blend french terry. The level of innovation using fashion fabrics printed with handmade blocks is unheard of. Each season we draw from centuries-old Indian textile techniques to design fabrics that use the traditional language of hand block printing in a new way.
We love the easy, relaxed clothing we make; it's arty, spirited and fun to wear. And because our mission is designed into every piece, wearing MarketPlace really is a life-changing experience.