Power of the Human Spirit - 3
April 19, 2020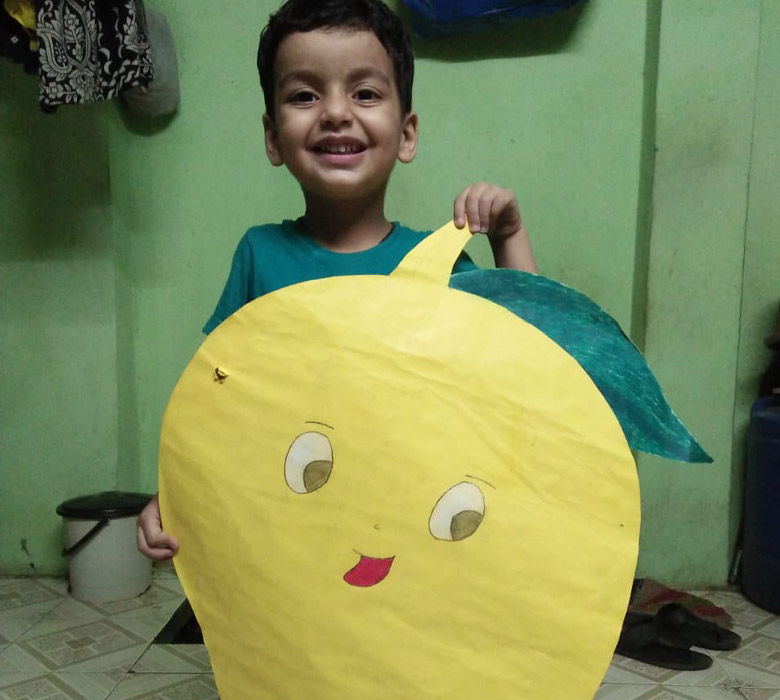 Shelter-in-place has been challenging for people all over the world. In India you hear heartbreaking stories of isolation, large families in very small homes, challenges of keeping kids and teens at home, not enough money to buy food, and more. The massive media coverage brings us sensational stories constantly from all over the world.

We wanted to bring you everyday accounts of how the women artisans in India are dealing with this difficult situation. An All-India shutdown (1.2 billion people) was declared on Tuesday, March 24. On Thursday, all the MarketPlace staff members started calling the artisans to check in. This is some of what we learned in our conversations with them.

To learn more about our response to COVID click here
STRESS BUSTING
In the past year and a half, the women have been learning and practicing yoga. This activity was organized to address health issues some of the women were suffering from. Not everyone was enthusiastic. Some of the women said they did not have time or enough interest to fit this into their schedules. Now, however, more and more of them are seeing the health and stress-relieving benefits of yoga. They are setting aside time to practice and involving the whole family too.
Top Left: Dipika Surti from WARE Collective and her family Top Right: Akshata More from Arpan Co-operative with her daughter Bottom Left: Sujata Ambre from WARE Collective with her daughter in law Bottom Right: Children of Sudha Shukla from Sahara Collective
MEMORIES OF CAREFREE TIMES
Everyone joins in when it's game time. In the past the children would only do such things with their friends, but now the entire family is getting together to play board games, sing songs, compete in charades, etc. The women are enjoying this taste of carefree childhood fun, despite the current troubles.
Top Left: Tara Tiwari from WARE Collective with her grandson Top Right: Vaishali Adkar from WARE Collective with her daughter Bottom Left: Anjum Ansari from Aashiyana Co-operative with her family Bottom Right: Aparna Shetty from WARE Collective with her son
TOGETHER IN CHALLENGING TIMES
Staff members in India continue to call 2 to 3 artisans every day to see how they are doing and to suggest ideas for family activities that can be done at home. Of course, many are facing similar situations with their own families. At first it was a great luxury to have so much time to spend at home with their kids. As time goes on, however, it is becoming more of a challenge to come up with new activities and entertainment.
Top Two Images: Paver block decoration by Nishi Arora to be used as book stands Middle Two Images: Suvarna Barkade with her daughter Bottom two images: Pratibha Bhurki with her son
CREATIVITY AND FRIENDLY COMPETITION
Most homes have some paper and pencils on hand, so many of the children have taken up drawing to pass the time. To make it more interesting, in some cases the children are making it into a competition. Sometimes even the parents join in the fun.
Top Left: Daughter of Jagruti Acrekar from WARE Collective Top Right: Daughter of Sonali Mere from Ranphul Co-operative Bottom Left: A Drawing by the Son of Urmila Kavatkar from Jivdani Mahila Mandal Co-operative Bottom Right: Son of Aparna Shetty from WARE Collective
CLICK ON THE LINKS BELOW TO SEE MORE FROM THE ARTISANS.
Power of the Human Spirit - 1
Power of the Human Spirit - 2
Power of the Human Spirit - 4
Power of the Human Spirit - 5
Power of the Human Spirit - 6
Power of the Human Spirit - 7
Power of the Human Spirit - 8
CUSTOMER REVIEWS





My Grateful Thanks
Apr 21, 2020
By Seema
Thank you for sharing these precious moments in your lives. The families as they are gathered in their homes, doing their best to make these days meaningful for all ages. The art, the bright colors, the creativity all serve to brighten our lives as we visit you on the internet. We wish all of you safety, good health as we appreciate your abundance of patience. And isn't it fun to find a'Seema' among you! Mine, is Hebrew, and I understand it is a popular name in your country. Whatever our faith, we send you our blessings.