Power of the Human Spirit - 4
April 26, 2020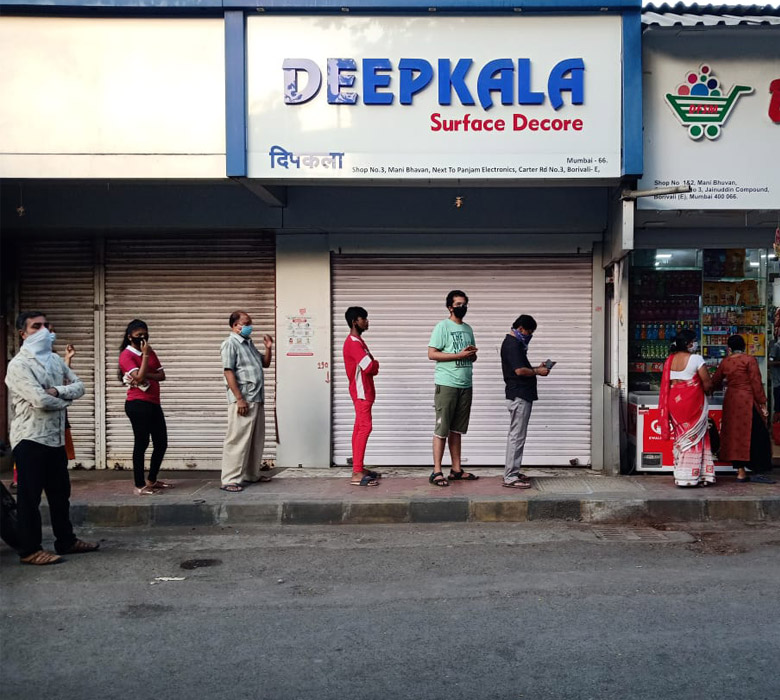 Over a month ago shelter-in-place became the new reality in India. The artisans were counting the days until its end, but the government instead extended it to May 3. The severe restrictions state that no one can leave home except to buy groceries or medicine. Even short walks around the neighborhood are prohibited. This directive is being strictly enforced. Police check posts oversee the public areas and there are huge fines imposed on anyone not complying with the rules.

As this emergency continues with no real reliable end in sight, MarketPlace has been giving a food subsidy to the artisans since they are unable to work. Likewise, their family members, many of whom are daily wage earners, cannot work and earn. Staff members are calling the artisans regularly to check on their welfare. Artisans and staff members are keeping us updated by sending pictures and news of their "new normal" everyday lives.
STREETSCAPES
Scenes from today's Mumbai look like postcards from an earlier time. Streets that normally are full of cars, trucks, rickshaws, bikes and bustling foot traffic are deserted. The empty train station below is the second largest terminus in Mumbai and usually caters to over 30 train routes and over 200,000 daily commuters.

Grocery stores and vegetable venders are the only stores open for business. Next to the shops, however, is one recent feature: stones or chalk circles mark out 6-foot distances so that customers can safely separate while waiting to be served. Some stores offer delivery, but only to wealthier neighborhoods. This convenience is not available - or affordable - in the slums.
Top Left: Borivali East a densely populated suburb of Mumbai Top Right: A Fishing Village in Arnala which is located on the outskirts of Mumbai Bottom Left: Another image from Borivali East showing the deserted street durning the lockdown Bottom Right: The Lokmanaya Tilak Terminus commonly called LTT is one of the largest stations for long distance trains.
EMBROIDERING THANKS
MarketPlace has never supported a charity-based model for empowerment. These are truly desperate times for the artisans and their families, however. Unable to work and with their activities restricted they can face food and health emergencies. To help them get over this period, MarketPlace has been giving a food subsidy to all the artisans. In return the artisans are embroidering 12-inch fabric squares.

Embroidery is something they love to do and which it is possible to do at home. This is not only a thank-you, but it is a way to return to their lives some more structure and fulfillment. Subjects and patterns are all up to them. At first, not surprisingly, the embroideries were all about the coronavirus and stay-at-home. Lately they have moved on to happier themes!
Top Left: Ramila Solanki from Nirmaan Collective Top Right: Rekha Sonawala from WARE Collective Bottom Left: Varisa Ansari from Aashiyana Co-operative Bottom Right: Aparna Shetty from WARE Collective
COMMUNITY AT ITS BEST
MarketPlace works with several fabric-printing and weaving units outside of Mumbai. These are mostly small groups in rural and semi-rural areas in different parts of India. People outside of the cities are also suffering food scarcity and lack of work. These fabric producers have stepped up by providing rice, dhal and other essentials not only to their craftsmen and women but also to others in their communities. These are not large production units, so their generosity is truly laudable.
Top Images: Mr. Nageshwar Rao from Hemalata Fabric in Andhra Pradesh, South India. Mr. Rao's specializes in the kalamkari fabrics and has been associated with MarketPlace for the last 25 years. He has been distributing grains, vegetables and a small sum of money to his workers every week since the lockdown three weeks ago.

Bottom Images: Mr. Ejaz Shaikh from Sufi Creations in his slum in Nallasopara. Ejaz inherited the business from his father. Sufi Creations specializes in rapid dyeing (Bagroo). Ejaz has gone house to house in his slum to distribute food to the old, needy, and other community members, many of which who have been associated with business for 35-40 years.
SHARING MEMORIES AND HOPE
Sharing memories and hope MarketPlace staff members have been meeting via phone conferences twice a week. As the COVID-19 emergency continues, however, the tone of these discussions has understandably become more and more downhearted. To help lift their spirits, at a recent meeting they all shared a photograph associated with a treasured pre-coronavirus moment.

Abdul, the professional pattern maker, posted a picture of his family's visit to Uttan, an area 30 km. outside Mumbai. There they saw a beautiful sunset and ate ice cream.
Shruti Wamborikar, who runs the Education for Life program, loves to visit Varsoli Beach. Her picture captured an especially memorable trip there because she and her husband were accompanied by both sets of their parents.
Kala Darji, the merchandizer, went to the hill station Mt. Abu with her husband and their new-born daughter Thea. It was Thea's first trip and they made it special. Even thought it was chilly December, they enjoyed ice cream - and also jalebi with rabri (fried sweet with milky sauce), a specialty of the region.
Bhakti, the production manager, adores her nephew Chiranjit. Her picture depicted a family dinner. Taken by her sister it captured a special moment between Bhakti and Chiranjit. It was good for everyone to remember some of the happier moments in life and to feel that there will be many more to come.
CLICK ON THE LINKS BELOW TO SEE MORE FROM THE ARTISANS.
Power of the Human Spirit - 1
Power of the Human Spirit - 2
Power of the Human Spirit - 3
Power of the Human Spirit - 5
Power of the Human Spirit - 6
Power of the Human Spirit - 7
Power of the Human Spirit - 8
CUSTOMER REVIEWS





Clothing that is more than clothing
Apr 30, 2020
By Christine Williams
I have many products from Marketplace, and I smile whenever I look in my closet. The clothes are not only beautiful, but they are also unique works of art, and I always think of the artisans who made my garments, imagining them sewing and wondering who they are. I feel a connection across the globe with them. Thank you.