International Women's Day 2019
March 13, 2019 | By Pushpika Freitas, MarketPlace President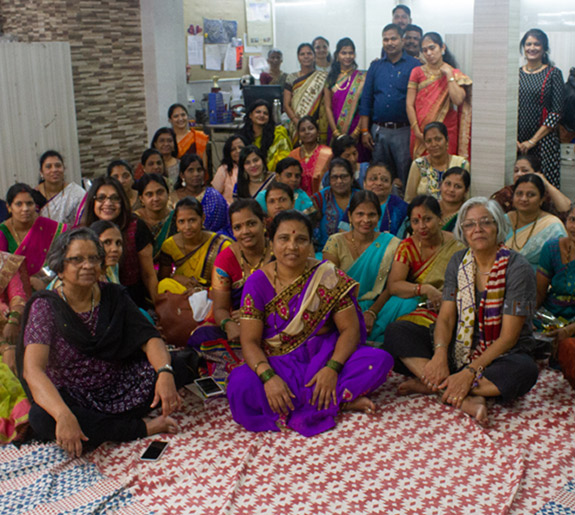 On March 8, I was thrilled to join in the celebration of International Women's Day in Mumbai. Women artisans from each of the cooperatives came dressed in their best saris to be greeted by the men who are staff and members of SHARE and MarketPlace Mumbai. The men were not only the welcoming committee (who presented a rose to each guest), they had also arrived early to decorate the room for the celebration.
SHARE staff had organized a big surprise for the occasion. They had secretly arranged for husbands or sons of ten of the artisans to pay tribute to these women in their lives. They all kept these plans so hush-hush that I had no idea what was coming. Judging by the astonishment I saw on the artisans' faces when their husbands and sons walked in, they were also totally surprised. Manju Gupta's husband admitted he'd had to lie a little to his wife to keep the secret. When she asked him why he was dressing in his good clothes, he replied, "A wedding." I think she forgave his fib when he handed her a rose.
One by one the men talked about the strength and influence of these women.
Bharti Solanki is the embroidery supervisor at Nirmaan Collective. Her husband, Vijay, talked about how she has encouraged him, even declaring that he is what he is today because of her.
Chinta Gupta's husband was a bit intimidated by the audience of over 40 women! After teasing him ("After 25 years of marriage you cannot say one thing about me?") she helped him out by sharing that he shows his love by often bringing her tender coconut, a favorite of hers, sometimes even delivering it to the workshop.
Sangeeta Jadav's son Avinash got emotional as he talked about all that his mother did for him and his siblings. Every time he had a problem, he shared, he could turn to her and she would say, "I am here and we will solve it."
Rasika Gurab's husband praised her work ethic, which he said had also inspired her family to work hard. They often tried to get Rasika to slow down and let them help.
Leena Fernandes' husband declared that he was thankful to have this opportunity to tell his wife in front of everyone that he was proud of her. He also praised WARE Collective for being such a supportive group.
Prianka Medhe's husband said that he did not expect that he would have to talk in front of so many women. He broke down saying that he could not put into words what she meant to him and had done for the entire family.
Meena Gupta's husband said that at first, he resisted allowing her to work. But she was determined and now he is so pleased because he sees her happy and committed.
Tushal, Sujata's Ambre's son, recalled that his mother was very protective and was always after him to study. In the past, he had complained, but now he appreciated how much he owes her.
It was so touching to hear these men and boys express gratitude to SHARE and MarketPlace for the opportunities they have opened up for these wives and mothers, and also their children. For me, it was refreshing and inspiring to see these women being appreciated. We hear a lot about the challenges faced by women at home, so it was great to hear these affectionate testimonials.
I also enjoyed seeing the entire group interactions as women from different cooperatives greeted one another like old friends. Staff and artisans and supervisors socialized easily, their closeness apparent in the way they joked among one another and in all the smiling faces. It was clear to me that this was really one big family, and I felt honored to be a part of it!