Resilience Redesigned: The MarketPlace Way - 6
November 16, 2020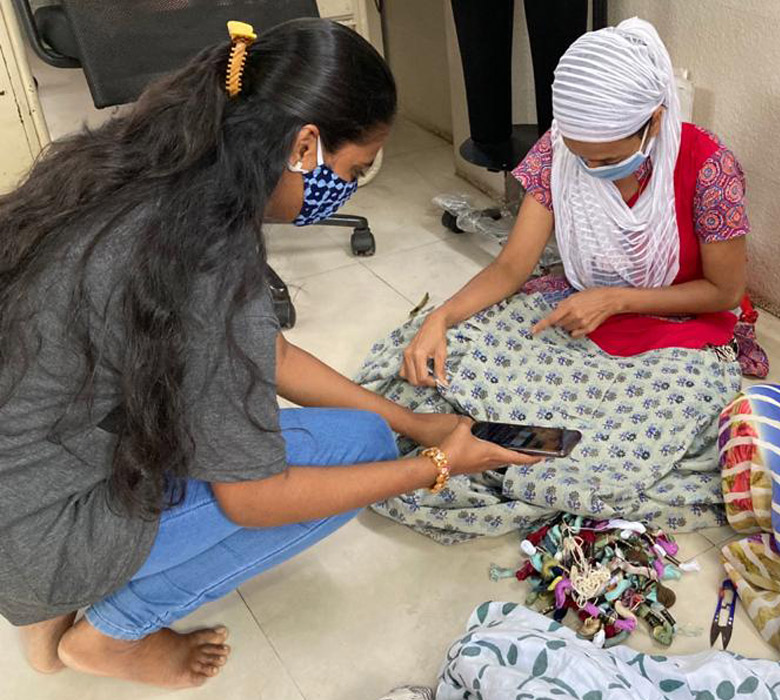 Life was never exactly easy in the narrow lanes of the Santacruz, Mumbai slum. The coronavirus and lockdown restrictions have made everything even more complicated. Yet there are still inspiring stories from the staff at SHARE, MarketPlace Bombay, and MarketPlace Chicago. These are all accounts that have moved the staff whether it was another colleague or the artisans and their children. Refusing to be discouraged, they are finding ways to not only cope, but triumph.
ART OF MANAGEMENT
By Sanvritti Rana - MarketPlace Mumbai
Sanvritti, as a student at the National Institute of Fashion Design, did her final year internship at MarketPlace Mumbai. She is now doing a 6-month paid project there. The last few months have seemed like a paradox to me: the world came to a standstill, and yet time passed in the blink of an eye. I have learned some important lessons from the people around me. One such person is Ziabhai, the head of Udyog Kala Kendra fabric producers. I started working with him 3 months ago, and I was worried that he would have problems adapting to all the new production planning formats I was giving him. It did not help that we had to communicate via video or phone call. I thought it would take weeks to get up and running. Yet he responded right away with no resistance and even gave me some constructive feedback which facilitated implementation.

I had been nervous about asking him questions, but he patiently answered all of them, filling me in on all the processes undertaken at the workshop. I am reminded of a quote from Manoj Arora: "Be like a duck-paddling and working hard in the water, but what everyone sees is a smiling, calm face." Ziabhai is like this, overcoming obstacles while he maintains his composure. In these trying times he puts others at ease. We faced many problems in production and delivery: absenteeism due to the pandemic, torrential rains, lack of transportation. Yet Ziabhai would calmly plan his next step. His determination, hard work and logical thinking have been the driving force behind success.
WORKING TOGETHER
By Kala Darji - Design Coordinator, MarketPlace Mumbai
It has been very difficult simply living in the lockdown, let alone getting work done. I don't think I could have managed without Jennifer. She is hard-working and determined, and if I give her a task to do, I am sure she is going to get it done. These days I go to the office twice a week. When I am not there, Jennifer is my eyes, ears and mouth.

She video calls me every morning so we can discuss business before the artisans arrive. We go over the embroidery samples and schedule, and she takes photographs of them to send to the designer, Adele, for her approval. When I do go in to the office, I can look at the new samples and answer any questions that have arisen. When we check the production fabric and samples, she becomes my extra pair of hands. There is a lot of documentation required as we sign samples, update the books and update the computer files, and she helps me to do this more efficiently.
ECO-FRIENDLY GANPATI
By Nishi Arora - Assistant Director, SHARE
The theme for our Social Action Program is what we can do to save our environment. In India festivals are a big part of our lives, so we explored how our celebrations can be more eco-friendly. The Ganesh festival is a 10-day festival in which statues of the god play a central part. Large statues of Ganesh are displayed in community pandals, while smaller images are worshipped in homes. At the culmination, the statues are immersed in water, like lakes and rivers. However, since many are made from plaster of paris, chemical dyes and plastic, they do not dissolve but instead pollute and litter the water and beaches. With the assistance of the Sanskar India Foundation we held a virtual session with a group of artisans on making their own statues from mud and clay. Eleven participants followed the trainer's instructions and made images to decorate at home. These would easily dissolve in water, returning to the earth.
CLICK ON THE LINKS BELOW FOR MORE STORIES.
Resilience Redesigned: The Marketplace Way-1
Resilience Redesigned: The Marketplace Way-2
Resilience Redesigned: The Marketplace Way-3
Resilience Redesigned: The Marketplace Way-4
Resilience Redesigned: The Marketplace Way-5
Resilience Redesigned: The Marketplace Way-7