Aashiyana Co-operative Define Their Brand
September 29, 2021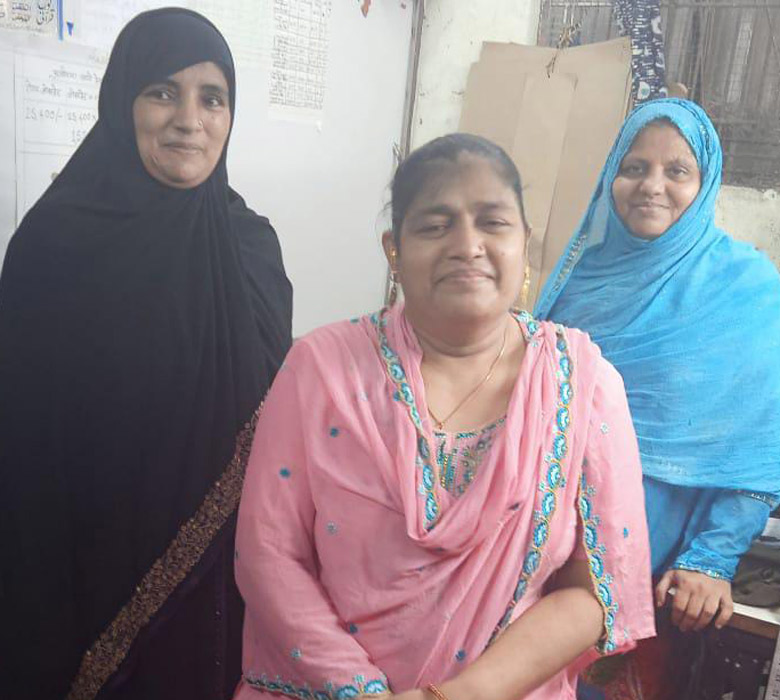 "Branding" is a central concept in Marketing and Advertising, It is important to know who you are, what you stand for and what you want to be identified with. Recently all the artisan groups associated with MarketPlace in Mumbai participated in an exercise to "discover their brand." These groups have many similarities, but each has its own particular character and even temperament, which came out during this activity.
AASHIYANA CO-OPERATIVE
Aashiyana is a small group located in Bombay Central, Mumbai. It started in 1995 when a non-profit organization working with children approached SHARE because the mothers wanted to work and earn a living. The Tulsi Wadi slum where Aashiyana is located consists of both Hindus and Muslims and communal clashes are common. It is also a very poor neighborhood and has more than its share of crime and drugs.
Aashiyana consists of 6 tailors, 8 embroidery artisans, a supervisor (who is also a tailor) and a manager. In its history it has seen discord as personalities clashed and rivalries developed. Some of the older artisans were reluctant to share power with newer members. With time (and occasional interventions by SHARE social workers and Bhakti from Marketplace-Mumbai) the women have come to appreciate the advantages of working together efficiently and with respect.
Perseverance should be their second name as they have had to overcome many challenges. For one thing, their workshop is tiny. It also sometimes floods during the monsoons. But here they have found space to cut garments and arrange the sewing machines. They have found a way to make the space work and tasks are completed smoothly, efficiently and on time. They work as a team and are able to accommodate different schedules.
They are also committed as a group for the various social programs, making sure that someone can attend every meeting. In spite of the surrounding social problems they are united in spirit and goals. While their lives are difficult, they work to maintain a positive environment, laughing and joking and supporting one another. They identified these four aspects that describe their identity.
1. Respect
2. Unity
3. Helping Each Other
4. Perseverance

PRODUCTS MADE BY AASHIYANA FOR FALL 2021
CLICK ON THE LINKS BELOW TO READ HOW THE OTHER COLLECTIVES AND CO-OPERATIVES DEFINE THEIR BRANDS
Nirmaan Collective
WARE Collective
Sahara Collective
Arpan Co-operative
Ghar Udyog Collective
Ranphul Mahila Mandal Co-operative
Shramik Mahila Mandal Co-operative
Ekta Co-operative
Pragati Co-operative