Ranphul Mahila Mandal Co-operative Define Their Brand
October 18, 2021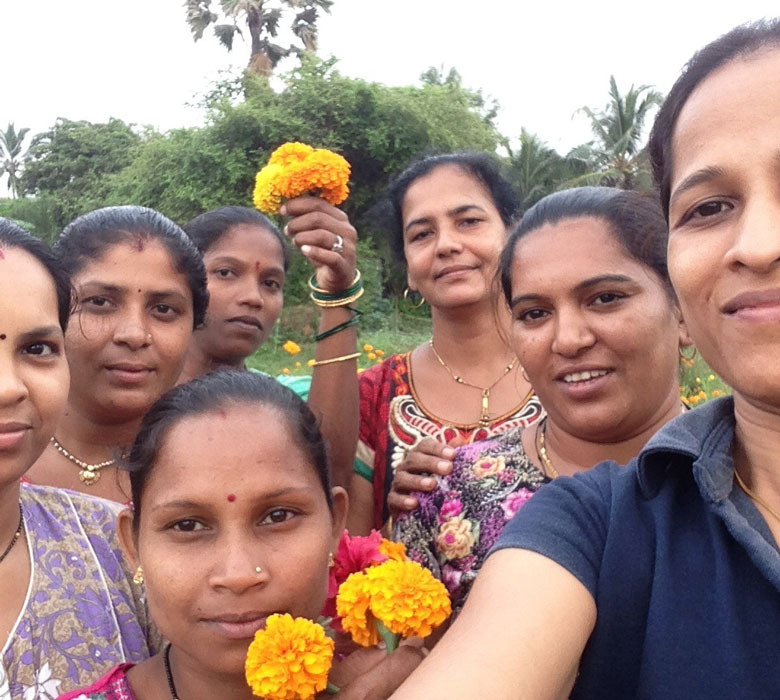 "Branding" is a central concept in Marketing and Advertising, It is important to know who you are, what you stand for and what you want to be identified with. Recently all the artisan groups associated with MarketPlace in Mumbai participated in an exercise to "discover their brand." These groups have many similarities, but each has its own particular character and even temperament, which came out during this activity.
RANPHUL MAHILA MANDAL CO-OPERATIVE
Ranphul Mahila Mandal Co-operative (RMM) was started in 2014 and consists of 5 tailors, 9 embroidery artisans and one supervisor. Situated in a semi-rural area roughly 67 km from Mumbai, many of them (mostly the embroidery artisans) are also involved in agriculture and flower-picking. They do this in the hot sun in the morning but still come looking very fresh in the afternoon. It is not unusual to see them climb a coconut tree to pluck the coconuts.
When they first started, they had to come to the MarketPlace office for training, getting the production samples and fabric passed, etc. It was an onerous and time-consuming trip as they had to take both a bus (which did not run regularly) and a train. But they did this with no complaints. Their dedication and good nature impressed the staff and other artisans.
As with all the groups, they have disputes but almost always they will talk about them and resolve them by themselves without the assistance of the staff at MarketPlace. This is unusual. They are also a very close-knit group and go out of their way if someone is in trouble. During the pandemic, some women could not even come to get the food subsidy money MarketPlace was giving. Somehow, despite the lockdown, RMM managed to make sure everyone received it.
One reason this group did not succumb to the turmoil that usually occurs when starting a group was that they had strong leadership. Mary was determined to make it work and kept the group together. Rather than stumbling, they flourished. Now, Surekha has taken over as the manager since Mary is a new grandmother and wants to spend some time with her grandson.
They identified these three aspects that describe their identity.
1. Equality
2. Unity
3. Punctuality

PRODUCTS MADE BY RANPHUL MAHILA MANDAL CO-OPERATIVE FOR FALL 2021
CLICK ON THE LINKS BELOW TO READ HOW THE OTHER COLLECTIVES AND CO-OPERATIVES DEFINE THEIR BRANDS
Nirmaan Collective
WARE Collective
Sahara Collective
Aashiyana Co-operative
Arpan Co-operative
Ghar Udyog Collective
Shramik Mahila Mandal Co-operative
Ekta Co-operative
Pragati Co-operative

CUSTOMER REVIEWS
Love the look!
Dec 30, 2021
By Mary Somerville
I'm not sure what cooperative made my dress, but I love it and admire all the women who make these outstanding clothes! Be proud!